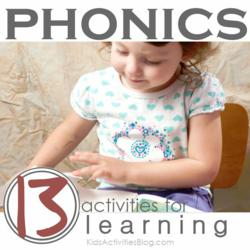 Movement helps to learn how to read.
Dallas, TX (PRWEB) January 20, 2013
Teaching how to read requires lots of patience. Moms are sharing their kid tested phonics activities and cool reading games that sneak in learning while having lots of fun.
The ideas are endless on Kids Activities Blog. They include making phonic flip charts or pull out strips to help kids sound out words. Using manipulatives that match sounds such as fry boxes will engage even the youngest ones. Also, be physical with the kids and get moving by jumping to letters that make a specific sound. Build a phonics phone out of PVC pipes to hear the various sounds or use a flyswatter to playfully spell out each word.
Check out the link to download word family cards and play a game of matching sounds with cards. Playing scrabble is another favorite among Moms blogging on Kids Activities Blog. Go on a letter hunt or start a story game with leftover story starters. One of the best ideas is playing soccer, basketball, or football while reciting sight words.
Kids love to move and read. Make movement part of the reading practice. It stimulates the brain and helps the learning process. Get the kids started on the right reading track this year.
About Kids Activities Blog
Kids Activities Blog is a website created by two moms (who collectively have 9 children), Rachel Miller and Holly Homer from June Cleaver Nirvana. It is their daily goal to inspire parents and teachers to play with kids. This interactive website publishes simple things to do with kids twice a day. Kids Activities Blog is a great tool for moms and teachers to find kid-friendly activities that create memories and sneak learning into the fun.