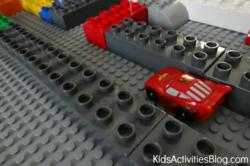 Solving and building mazes are a great tool to teach kids problem solving skills and left from right.
Dallas, Texas (PRWEB) January 11, 2013
Learning problem solving skills is essential in early childhood development. Kids Activities Blog has released creative ways to build LEGO mazes for kids that sneak in a bit of learning while having lots of fun.
Kids love to solve and make a maze. Both ways teach kids essential problem solving and spacial skills and help to distinguish left from right.
Using a LEGO base plate and various size LEGO building blocks, build a path just wide enough for a car or favorite toy to fit through. For younger kids make a path with no or just a few dead ends. Encourage the older kids to build mazes for the younger kids. After building the maze, drive the cars through it together.
Other cool ways to build a maze with kids is by using a poster board, some sticky tack, yarn, and markers. Create the route with the yard and sticky tag first on the poster board. Then add, preferably with a ruler, paths around the yarn that include dead ends. Check out Kids Activities Blog for the complete instructions on how to make the maze. To enrich the activity, let the kids take turns giving each other directions when finding the way through the maze.
For an added challenge, place the maze inside a box and use a marble to find the way through the maze. Other easy maze in the box ideas are featured on Kids Activities Blog as well as a set of printable mazes for kids of all ages.
About Kids Activities Blog
Kids Activities Blog is a website created by two moms (who collectively have 9 children), Rachel Miller and Holly Homer from June Cleaver Nirvana. It is their daily goal to inspire parents and teachers to play with kids. This interactive website publishes simple things to do with kids twice a day. Kids Activities Blog is a great tool for moms and teachers to find kid-friendly activities that create memories and sneak learning into the fun.