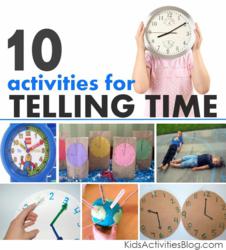 Let the kids wear a watch to help them grasp the concept of time.
Dallas, Texas (PRWEB) January 14, 2013
Tell time games are the latest educational activities featured on Kids Activities Blog. These games provide extra math learning activities while having lots of fun.
These easy-to-do time telling ideas include making a playdoh globe and putting sticks into the different timezones. Letting the kids wear a watch. Wearing a watch will help the child learn the concept of time very quickly and will help to distinguish between hours and minutes. Or let the kids draw a giant clock outside on the driveway and let them be the hour and minute arms to show the time.
Other ideas include making a paper clock and using flaps to show the minutes, playing time telling races or creating a time wall. For complete instructions check out Kids Activities Blog.
Additional educational kids stuff includes a list of over 20 educational toys such as Ikoso Kits to create 3D rainbow puzzles, a 4D Anatomy puzzle that teaches how organs fit into the body, a nightlight that doubles as a Star Theater Planetarium, and a portable roll-up piano.
These innovative educational toys are great learning tools for kids of all ages. For additional ideas, check out Kids Activities Blog to get the kids learning on the right track this year.
About Kids Activities Blog
Kids Activities Blog is a website created by two moms (who collectively have 9 children), Rachel Miller and Holly Homer from June Cleaver Nirvana. It is their daily goal to inspire parents and teachers to play with kids. This interactive website publishes simple things to do with kids twice a day. Kids Activities Blog is a great tool for moms and teachers to find kid-friendly activities that create memories and sneak learning into the fun.