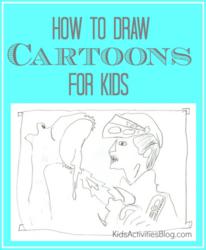 Drawing cartoons looks simple until one sits down and tries to accomplish it.
Dallas, Texas (PRWEB) January 15, 2013
How to draw cartoons is something that artsy kids often try to learn. Kids Activities Blog features a simple way to get the kids started on drawing cartoons that really look like themselves.
To get started, let the kids get dressed up in their favorite costume. Let them choose a prop such as sword, stuffed animal, or a favorite toy. Then, take a picture of them in front of a plain background. Print out the picture on low resolution on the printer.
Afterwards, place a plain white sheet of paper on top of the picture and tape it against a window. Let the kids trace the main outline of the picture with a pencil. The result will be a simple one line drawing that surely will surprise the young cartoon drawing artist and their friends.
Additional cartoon face drawing ideas for younger kids are published on Kids Activities Blog. These tips for learning how to draw faces include using a mirror and discussing together with the child the different features such as eyes, ears, nose, mouth, chin, and hair before beginning to draw. Having a mirror handy while drawing the face will also help the child.
For a additional creative ideas check out Kids Activities Blog to get the kids inspired this year.
About Kids Activities Blog
Kids Activities Blog is a website created by two moms (who collectively have 9 children), Rachel Miller and Holly Homer from June Cleaver Nirvana. It is their daily goal to inspire parents and teachers to play with kids. This interactive website publishes simple things to do with kids twice a day. Kids Activities Blog is a great tool for moms and teachers to find kid-friendly activities that create memories and sneak learning into the fun.