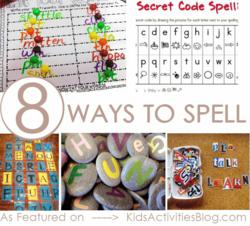 Playing sight word ball is a fun game for kids of all ages.
Dallas, TX (PRWEB) January 16, 2013
Kick of the year with fun reading ideas! Creative Help me spell games and clever kinetic sight word activity ideas have been released on Kids Activities Blog this month.
These games will help kids conquer the next reading level while simply having fun. The fun games foster sight word memorization and teach spelling rules.
Among the cool games are secret code spelling games for kids of all ages. The kids have to use a picture code to write a secret message. Using colorful skittles or letter rocks will make it fun to spell out words.
One of most favorite learning how to read activities are with LEGOS. Simply write letters on Duplo Legos, preferably with a dry erase marker, and let the kids build words with the letter blocks.
Another original idea is cutting out letters from cereal boxes, newspapers, and magazines and creating a letter bank. Let the child pick out the colorful letters with different fonts and sizes to create silly looking words. Glue them on poster boards, pictures or letters to write fun looking messages.
One of most ingenious sight word activity ideas is playing sight word ball. Materials needed are a beach ball, a marker and a list of sight words. Kids of all reading levels will love to participate in this fun game. Stand in a circle, toss the ball around, and let the kids point to a word. The emerging readers can simply point and ask the parent to read the word. The older kids can either read the word or make sentences out of the words written on the different colors.
Best of all, the sight word ball games allows the kids to learn reading by movement. For complete instructions and additional learning ideas check out Kids Activities Blog in January.
About Kids Activities Blog
Kids Activities Blog is a website created by two moms (who collectively have 9 children), Rachel Miller and Holly Homer from June Cleaver Nirvana. It is their daily goal to inspire parents and teachers to play with kids. This interactive website publishes simple things to do with kids twice a day. Kids Activities Blog is a great tool for moms and teachers to find kid-friendly activities that create memories and sneak learning into the fun.