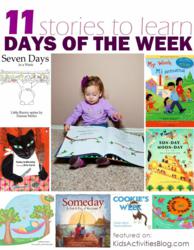 Teach kids the days of the week To-Day not Some-Day with these fun books published on Kids Activities Blog.
Dallas, TX (PRWEB) January 18, 2013
What day is it today? Kids are eager to learn about the concept of time and the days of the week. Kids Activities Blog has researched a list of over 11 fun and kid tested books about days of the week.
Among the resourceful books is a book by Eric Carle called Today Is Monday, a silly book about the different foods that hungry children eat up. Another kid's favorite is the Sun-day, Moon-day book written by Cherry GilChrist and Amanda Hall that reveals the mythology and fables about the days of the week for kids of all ages. My Week, Mi Semana written by Gladys Rosa-Mendoza, teaches the days of the week, numbers as well as colors in English and Spanish. A great book for the bilingual children.
Someday Is Not A Day Of The Week written by Denise Brennan-Nelson, is a cute book about Max searching for the day when he is promised to do everything, a day called "someday." Day By Day A Week Goes Round written by Carol Diggory Shields is a great book teaching the days of the week and months by reading rhymes.
For a complete list of all the fun educational books teaching the days of the week check out Kids Activities Blog this January. Kids Activities Blog loves fun activities for kids that sneak in a bit of learning.
About Kids Activities Blog
Kids Activities Blog is a website created by two moms (who collectively have 9 children), Rachel Miller and Holly Homer from June Cleaver Nirvana. It is their daily goal to inspire parents and teachers to play with kids. This interactive website publishes simple things to do with kids twice a day. Kids Activities Blog is a great tool for moms and teachers to find kid-friendly activities that create memories and sneak learning into the fun.