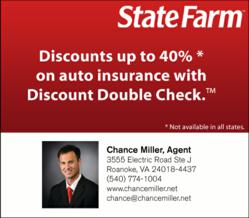 I am very happy with the move and love the Roanoke community.
Roanoke, Va. (PRWEB) January 09, 2013
Chance Miller is thrilled to be bringing business into Virginia. As a native of Virginia, he attended Radford University and then worked as an insurance agent in Lebanon, VA for many years. Miller's family is all in Virginia with one famous exception. His cousin, Heath Miller is the tight end for the Pittsburgh Steelers. They grew up in Virginia together, as their fathers are twin brothers.
Chance Miller has been with State Farm for over 4 years and offers auto insurance, homeowner's insurance, life insurance, renter's insurance and business insurance. He is a registered representative for investments and holds a mortgage license, handling mortgages through State Farm Bank.
Miller recently relocated his State Farm insurance business to Roanoke, VA. He said, "I am very happy with the move and love the Roanoke community. I am fortunate to be taking over half of long time agent, Jack Sale's book, as Sale retired last year. My staff are all fully licensed agents, and include my wife, Tayler Miller, Danielle Zombkowski, and Linda Kruse who worked in Roanoke with Jack Sale for over 10 years."
To learn more or to get a free insurance quote, please visit http://www.chancemiller.net , email chance (at) chancemiller (dot) net or call 540-774-1004.
About Chance Miller - State Farm Insurance Agent
This is a locally owned and operated State Farm Insurance Agency which proudly serves the Roanoke community. They offer insurance and banking products to their customers including auto, home, life and business insurance.
About NALA™
The NALA (National Association of Local Advertisers), a small business association, is for local business owners offering new online advertising & small business marketing tools, great business benefits, education and money-saving programs, as well as a charity program.
PR Contact: Tiffani Tendell
ttendell (at) thenala (dot) com
805.650.6121, ext. 361
###