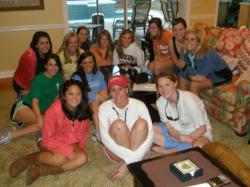 We gladly accept guests of all ages. Everyone should be able to enjoy Destin at any time of the year!
Destin, FL (PRWEB) January 23, 2013
It is never too early to start planning for Spring Break, and Easy Street Vacation Rentals, can make it easy. Centered in Destin, Florida, Easy Street has 19 pet friendly rental properties to choose from, all located in the Crystal Beach area. All Easy Street homes are within three blocks of Destin's white sand beaches, and crystal clear emerald water.
Easy Street rental homes are close to everything vacationers could want. Setting these rental houses apart from the rest isn't just the gorgeous beaches. There are plenty of golf courses, water sports, and fishing charters to choose from. The Destin Commons shopping center has over 80 retail stores, and the Silver Sands Factory Stores has over 100 factory direct stores. This close to the Gulf, it would be hard to pass up the seafood at one of the area's many restaurants, and when the sun goes down, Crystal Beach has a nightlife like no other.
Highly rated for their cleanliness and amenities, Easy Street Vacation Rentals are all fully furnished, and all of them are pet friendly. Almost all of the beach rentals also have private pools. To make reservations, view up-to-date photos of each property, find a sampling of area activities, or check the specials, go to their website at: http://www.easystreetvacationrentals.com.
About the company:
Rick and his wife Debbie started Easy Street Vacation Rentals in 2003 because of the frustration they felt in trying to find Pet Friendly vacation accommodations. They have traveled with their pets for years. Some of the places they stayed were less than clean, and it was obvious by the smell that the accommodations allowed pets. They vowed when they started their vacation rental business that all of their homes would be pet friendly and all squeaky clean. For more information, please visit their website at http://www.easystreetvacationrentals.com.