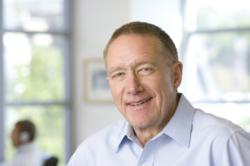 Salt Lake City, UT (PRWEB) January 08, 2013
Wasatch Advisors Chairman and Founder Sam Stewart, in his year-end commentary to shareholders, likens the market environment to the Samuel Beckett play Waiting for Godot.
Said Stewart, "The reality is that nothing much is happening on the economic stage. Nor is much likely to happen. Godot, in the form of resolution, will not arrive for a long time, if ever. And certainly not until the lingering effects of the balance-sheet recession have made their final exit. To one degree or another, most developed countries appear to be following a similar script."
Stewart points to debt as the principal factor restraining global economic activity. Said Stewart, "Resolving distressed debt requires both the reckless borrower and the imprudent lender to come to grips with their foolishness. Rarely does this happen quickly."
Stewart warns that Fed policy is also a problem. "It is becoming increasingly clear that present U.S. monetary policy at best has outlived its usefulness and at worst may actually be hindering economic growth. By interfering with markets, the central bankers may be preventing the vital cleansing function of a recession."
In this environment, Stewart believes investors should focus on stock picking. "A subdued economic recovery is the perfect environment for a stock-picker's market. I believe quality companies with defensible business models purchased at reasonable valuations will outperform.
"More than ever, I believe investors should continue to 'lean against the wind' during periods of obvious market optimism and pessimism, as the market ebbs and flows in response to our fibrillating economy. A modest cash position may also be appropriate as a source of dry powder for when the market gets overly pessimistic."
To read Stewart's full year-end commentary, click here.
About Wasatch Advisors®
Wasatch Advisors is the investment manager to the Wasatch Funds®, a family of no-load mutual funds, as well as separately managed institutional and individual portfolios. Wasatch Advisors pursues a disciplined approach to investing, focused on bottom-up, fundamental analysis to develop a deep understanding of the investment potential of individual companies. The portfolio managers employ a uniquely collaborative process to leverage the knowledge and skill of the entire Wasatch Advisors research team in making investment decisions. Wasatch Advisors is an employee-owned investment advisor founded in 1975 and headquartered in Salt Lake City, Utah. The firm had $13.4 billion in assets under management as of December 31, 2012.
###
Contact Information:
Jody Lowe: 414.322.9311 / jody(at)lowecom(dot)com
Steve Rung: 801.415.5523 / srung(at)wasatchadvisors(dot)com
______________________________________________________________________________
RISKS AND DEFINITIONS:
Mutual fund investing involves risks and loss of principal is possible. Investing in small or micro cap funds will be more volatile and loss of principal could be greater than investing in large cap or more diversified funds. Investing in foreign securities, especially in emerging markets, entails special risks such as currency fluctuations and political uncertainties, which are described in more detail in the prospectus.
An investor should consider investment objectives, risks, charges and expenses carefully before investing. To obtain a prospectus, containing this and other information, visit http://www.WasatchFunds.com or call 800.551.1700. Please read it carefully before investing.
A balance-sheet recession is a recession caused by some form of financial crisis or balance-sheet shock that can leave businesses in the position of having liabilities that exceed their assets.
Information in this document regarding market or economic trends or the factors influencing historical or future performance reflects the opinions of management as of the date of this document. These statements should not be relied upon for any other purpose. Past performance is no guarantee of future results, and there is no guarantee that the market forecasts discussed will be realized.
Separately Managed Accounts and related investment advisory services are provided by Wasatch Advisors, Inc., a federally regulated Investment Advisor.
© 2013 Wasatch Funds. All rights reserved. Wasatch Funds are distributed by ALPS Distributors, Inc. (ADI). Gene Podsiadlo is a registered principal of ADI. ADI is not affiliated with Wasatch Advisors, Inc. WAS002944 4/20/2013