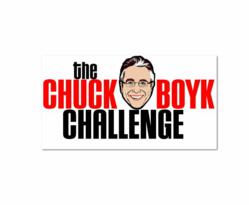 Toledo, Ohio (PRWEB) January 09, 2013
The Chuck Boyk Challenge is a charity event that is ongoing until February 14th. The Chuck Boyk Challenge aims to highlight local charities. The top 3 charities with the most votes will win cash prizes totaling $5,000.
One of the charities participating in the challenge is Gliding Stars of Toledo. Read below to find out more about this organization:
Gliding Stars, Inc. was originally founded in 1994 by Elizabeth M. O'Donnell. Ms. O'Donnell is an accomplished figure skater who turned her talents toward providing an extensive program of adaptive ice skating for people of all ages and challenges. She did this so that they could experience a part of normal life and the life-changing effects of regular exercise, social interaction, teamwork, family sharing, and a few hours of fame during the end-of-season Ice Extravaganza performance!
Their organization consists of a national headquarters, two products companies and local Chapters who provide on-ice instructional programs to members of many communities who are challenged by a variety of physical, mental and emotional disabilities. They are a registered tax-exempt charity under the IRS regulation 501(c)(3) and are also registered as such in their various States of operation.
To vote for Gliding Stars of Toledo or to find out more about the other participating charities, go to http://www.thechuckboykchallenge.com