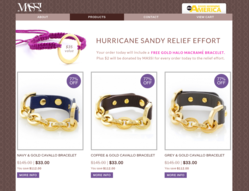 "One of the guiding principles at MASSI is to give back and make a difference," said MASSI Production Manager Derick Tortorella.
Los Angeles, CA (PRWEB) January 08, 2013
FOR IMMEDIATE RELEASE
Hurricane Sandy ravaged the east coast last November and many Americans needed help. Through Tory Johnson's "Comfort Campaign for Sandy Relief," new luxury brand MASSI sold thousands of its Cavallo bracelets and offered $2 for every order via "Good Morning America's Deals and Steals." Web Design Agency Excela Creative created a high-traffic e-Commerce platform for MASSI that successfully tracked and calculated orders, raising over $11,000 for Hurricane Sandy relief efforts.
"One of the guiding principles at MASSI is to give back and make a difference, and it's a delight to work with companies such as Excela Creative who simply 'get it'," said Derick Tortorella, MASSI production manager. "As MASSI's expertise lies in designer accessories, we heavily leveraged Excela's knowledge in web, flash sales and social media marketing to execute a series of online charitable-giving campaigns in just a matter of weeks."
MASSI offered its trendy Cavallo bracelets, a leather and chain combo, in six essential shades at a 77% discount. Also as an added incentive, the brand included a free gold halo macramé bracelet, a $35 value.
For the past two years, Excela Creative whipped up high-traffic e-Commerce sites for hundreds of brands that debuted on "Deals and Steals." The sites have been proven to perform flawlessly, eliminating the risk of site outages and providing an easy-to-navigate shopping experience for customers. This was the first opportunity to be involved with charity for both MASSI and Excela Creative.
"When MASSI asked if there was a way for us to make sure the site could keep track of sales and the percentage that would go to the relief fund we jumped at the opportunity," said Mike Henderson, Excela creative liaison. "We really tried to ensure that everything was as easy to follow so people knew that we were all trying our hardest to provide support to those who needed it and weren't trying to capitalize on a tragedy."
MASSI in conjunction with Excela Creative hopes this is the first of many charity organizations the brand can support.
ABOUT EXCELA CREATIVE:
With more than 100 high-traffic websites designed, Excela Creative has become the leading choice for brands featured on "Good Morning America's Deals and Steals." A division of Excela, For Everything Business, the company specializes in after-sale online marketing services including email marketing, social media marketing, web design, digital PR and more. For more information, please visit http://www.excelacreative.com
ABOUT MASSI:
MASSI is a contemporary lifestyle brand inspired by life through the lens, striving to position itself as a bridge between high fashion and practical everyday wear to allow style-savvy women to wear the line with confidence. Using genuine leathers and 18k gold, the stylish line offers women around the world a way to look polished and runway ready without breaking the bank. For more information, please visit http://www.massi.com