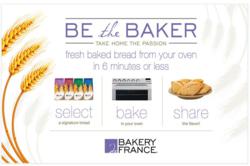 ROCKVILLE, MD (PRWEB) January 15, 2013
Bakery de France, a leading Wholesale and Retail Artisan Bakery, has created a unique "Be the Baker"™ Retail-Ready Program that invites consumers to turn their kitchens into a bakery.
"Be the Baker"™ introduces a new way to experience at-home baking in just 3 simple steps: Select, Bake, Share. By providing consumers with the convenience of enjoying fresh, warm bread at home, the "Be the Baker"™ Program is a true call to action to share the passion of baking all-natural Artisan Breads.
The Retail-Ready Program offers a twist on traditional In-Store Bakery programs by incorporating visually appealing products and program design into the overall concept. The cutting-edge bag material and design allows consumers to clearly view the product and see that it can be easily made in their own home and ready in 6 minutes or less.
Made with all-natural ingredients and 95% par-baked, the "Be the Baker"™ Program features Bakery de France's signature Diamond Artisan Rolls in a variety of exciting flavors including Cranberry Golden Raisin and Black & Green Olive. Consumers can enjoy this product on the day of purchase, or simply place in the freezer, then thaw and bake for later use.
To experience the passion of the "Be the Baker"™ Program, please email bethebaker(at)bakerydefrance(dot)com.
About Bakery de France:
For more than 25 years, Bakery de France has specialized in the Art of Baking, providing consumers with the latest evolutions and flavors in Artisan Breads. As part of Bakery de France's promise to consumers, products are crafted with only the finest all-natural ingredients resting in a room–temperature environment to allow the dough to evolve freely and rise naturally. These old world methods, paired with the demands of modern convenience, allow consumers to enjoy time tested products that fit within the essentials of today's busy lifestyle. At Bakery de France, bread truly is our Passion. For more information, please visit http://www.bakerydefrance.com.