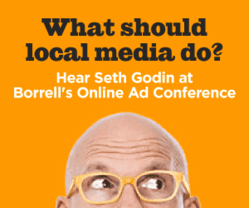 Local media companies face fantastic challenges, but challenge almost always holds great opportunity.
New York, NY (PRWEB) January 08, 2013
Best-selling author and marketing guru Seth Godin has been selected to keynote Borrell's 2013 Local Online Advertising Conference March 4-5 at the Grand Hyatt in New York City.
"Local media companies face fantastic challenges, but challenge almost always holds great opportunity," Godin said. "I'm thrilled to be asked to address the Borrell conference and to offer my thoughts on how local media companies can transform themselves."
"Seth was the hands-down pick when we asked past attendees whom they'd like to hear most," said Gordon Borrell, CEO of Borrell Associates. "I'm thrilled he'll be joining us and eager to hear his insights on the disarray and opportunities in the local media space."
Godin, hailed as "America's Greatest Marketer" by American Way Magazine, has founded dozens of companies and written 14 books, all bestsellers. His most recent book, The Icarus Deception, describes the end of an industrial economy and what transpires next.
At #LOAC2013, Godin will offer his thoughts on the fate of local media in today's digital world and what media companies might do to adapt.
Borrell's program features founders and key executives of some of the biggest disruptors to the local media space. Nearly 50 speakers will take the stage. They include:
Nathan Hanks, President of ReachLocal
Gian Fulgoni, Executive Chairman & Co-Founder of comScore, Inc.
Chip Perry, Chief Executive Officer of AutoTrader.com
Mike Ghaffary, Director of Business Development of Yelp
John Trimble, Chief Revenue Officer of Pandora Media
David Krantz, President & CEO of YP
Dan Levy, Director of Small Business, Facebook
Warren Webster, President of Patch Media
Borrell's annual conference is the largest gathering of online media executives; early sign-ups indicate a record attendance for the 2013 gathering. The conference typically attracts about 500 media executives and key digital advertising strategists, as well as dozens of leading industry vendors.
The conference kicks off with a cocktail party Sunday, March 3. The main sessions begin March 4 and runs through March 5. For more information or to register, visit http://borrellassociates.com
About Borrell Associates
Borrell Associates is an advertising research firm that assists local media companies and marketers with advertising strategies. Borrell helps companies to develop and implement fact-based strategies and tactics supported by proprietary local ad-spending data offered for any geographically defined local market in North American or the U.K.