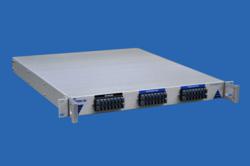 Raleigh, NC (PRWEB) January 08, 2013
M2 Optics Inc. announced today the general availability of the industry's highest density optical tap shelf, the SplitLight. With up to 128 optical taps in a single rack unit (1RU), this unique platform offers data centers, carriers, CATV operators, and large enterprises the most ideal solution for passively monitoring networks in the smallest footprint possible.
Continuing the M2 Optics focus of delivering affordable and flexible solutions built to customer specification, the SplitLight chassis can be completely customized to include an array of fiber types, power and split ratios, as well as different connector options. Furthermore, the company offers both a high density chassis with 72-128 fibers, or a standard chassis with 8-64 fibers for those will smaller scale requirements.
"With rack space being a premium in data centers, POPs, and carrier networks, it is imperative that optical tap solutions take up as little space as possible", states OJ Johnston, General Manager of Switching & Monitoring Solutions at M2 Optics. "While many vendors claim to have the highest density, none have matched the 1RU, 128 splitter configuration that M2 Optics has successfully developed for organizations seeking greater efficiency and flexibility."
For the best possible performance and reliability, SplitLight utilizes premium low-loss splitters. In addition, the HD chassis uses MTP-12 Elite® Connectors from USConec(TM) to keep insertion loss at an absolute minimum. As with all products from M2 Optics, every optical tap shelf is diligently tested prior to shipment.
Since every SplitLight is customized according to specification, pricing for the SplitLight is based upon the exact configuration required. To receive more information, please contact M2 Optics by visiting their website or contacting a local authorized partner.
-------------------------
About M2 Optics:
Since 2001, M2 Optics has been a leading provider of innovative solutions for fiber optic communications testing, monitoring, and connectivity applications. With a focus on high value products and services that are customized to each user's requirements, their customer base includes many of the most recognized organizations across the Telecom, CATV, Networking, Financial, and Government markets worldwide.