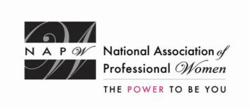 Today, we don't have to worry about how we can reach out to others. Distance or scheduling concerns no longer pose a barrier to speaking with people of like minds, or with those who, potentially, can help to...
Garden City, NY (PRWEB) January 10, 2013
Members and guests of the NAPW Santa Clarita, CA Local Chapter gathered on November 14th for a professional networking meeting at George's Bistro in Valencia, a venue that offered a cozy atmosphere and warm hospitality. Guest speaker Debbie Martin, Director of Development of the Arthritis Foundation, Pacific Region, spoke to the attendees about the organization's important work and about volunteering for the nonprofit. Santa Clarita, CA Local Chapter President Nicky Dare, who actively volunteers for the Arthritis Foundation, spoke on two relevant topics: holiday stress and networking.
"The room was filled with professional women from a variety of industries and professions, which allowed for a lively, stimulating, and effective networking session," said Chapter President Nicky Dare. "It was a wonderful turnout; we doubled our attendance from the first 'meet and greet' meeting last month!"
Each member and guest was given a name tag as well as a meeting agenda and a special gift from the Chapter President, a bracelet that supported the Arthritis Foundation's 'You Are Not Alone' campaign. Nicky then introduced the event's guest speaker, Debbie Martin, Director of Development of the Arthritis Foundation, Pacific Region. She discussed the organization's upcoming events including the Jingle Bell Walk in Glendale on December 8th and the Arthritis Walk in Magic Mountain on May 19th. Both events are intended to create awareness of two types of arthritis: Juvenile Arthritis and Rheumatoid Arthritis.
Debbie talked to the group of professional women about the need for volunteers and the many ways they could help, including forming a team for the Walk or joining an existing team such as Team iDARE, a team formed by Chapter President Nicky Dare. Nicky's team is already active in the local community and she is also a Committee Chair for the Arthritis Walk 2013 and works with local sponsors to garner support for the event. Members and guests were encouraged to visit the Arthritis Foundation website for more information. Nicky thanked the guest speaker for attending the meeting and bringing such valuable information to members and guests.
"There is not enough awareness and education available to the public and our local community about arthritis," she stressed. "Therefore, we need to consider helping them in any way we can such as promoting their 'Let's Move Together' programs and participating in the Walk events."
Nicky also mentioned how Debbie exchanged business information with member Sheryl Stacy.
"This is what Networking is all about!" said the Chapter President.
Due to technical difficulties, a special video about Jaime Polites, Amassador of Cyberonics, was not able to be shown to the audience. Although she was unable to attend the meeting, her speech, 'Living a Life after a Traumatic Brain Injury' was noted.
The Chapter President then gave the first of her two presentations. She began by thanking everyone in attendance.
"I am so grateful that I am able to be a part of the NAPW Santa Clarita Local Chapter; it is such a great networking group!" she said.
In addition to all of her charitable work and projects to help others in her local community, Nicky is working on a book, "iDARE: Bridging the Chasm of Cultural Divides, ©Nicky Dare 2012" by early spring of this year. She presented her message, 'What is the Definition of Modern-Day Networking?' She talked about how networking is defined as the sharing of information among people with common and/or diverse goals and interests. Open communication, she said, is an effective tool for interacting and connecting with others, either for business or social purposes.
"Today, we don't have to worry about how we can reach out to others. Distance or scheduling concerns no longer pose a barrier to speaking with people of like minds, or with those who, potentially, can help to advance our careers – or even change our lives. Social networks, such as Facebook, Twitter, Pinterest, and others are all the rage," Nicky told the group of professional women.
"As influential and effective as the Internet can be, however, it takes networking forums, such as NAPW, to foster enduring interconnectedness between people (specifically, women) who seek to advance their professional and personal objectives," said Nicky. "Today, it's all about who knows you and how many people you can meet, learn from and, perhaps, assist in some way."
She went on to recognize the challenges professional women face balancing work and family. She talked about how difficult building a career may be and how the monthly Chapter meetings can go far in helping everyone achieve balance in their lives.
"Once a month, we will gather together to remind ourselves how much we have achieved - to celebrate our integration of family, professional, and social commitments, and our ability to juggle these simultaneously," she said.
After a raffle drawing, where gift baskets were won by Terese and Nicky, and a gift certificate was awarded to Ivy Hirth, the Chapter President began her second presentation, 'Tips on How to Decompress and Reduce Holiday Stress.' She provided valuable advice on how to plan holiday parties ahead of time in order to avoid the typical holiday pitfalls.
Nicky's helpful tips included being proactive without being frenetic, prepare for a party at least two weeks in advance; Make one's tasks personal, remember, the holidays are about the spirit of giving, define one's priorities, remember why one is celebrating the holidays, don't struggle to do anything outside ones means, concentrate on simplicity and most of all, enjoy!
Members and guests applauded Nicky and all enjoyed such a meaningful holiday message from the Chapter President.
Nicky concluded the meeting by asking members and guests for suggestions for future projects or ideas. She also suggested that as part of Members Appreciation, members' birthdays will be acknowledged at monthly meetings. All members agreed and applauded.
"Let's share, grow, inspire, and motivate," said Nicky. "Let's keep going, Santa Clarita!"
The next Santa Clarita Chapter meeting will be held at George's Bistro on December 12th from 6:00 to 8:00pm. There will be holiday raffles, a guest speaker, and holiday gift exchange, and free demo of holiday makeup by a Licensed Makeup Artist. The meeting topic will be 'Natural Disaster Preparedness and Safety: Tips and Skills.'
"It promises to be another excellent networking opportunity as well as educational, inspiring, and motivating. I hope all of you will attend and bring guests. Let's support and grow our Chapter!" said Nicky. "And remember, our monthly meeting will always be held on second Wednesday of each month."
Attendees at the November Santa Clarita Local Chapter meeting were:
Victoria Purvis, Owner of Skin By Victoria, provided samples of products by Dr. Adam from Paris, including products for facials, aroma therapy, and skincare needs.
Ada Villanueva, guest of Nicky Dare, AIM Star Network Business Owner. Ada has attended a previous Chapter meeting and is highly interested in becoming a member of NAPW.
Terese Anthony, Director of Marketing at Hero's Pride, which specializes in products for the uniform industry. Her skills and areas of expertise include branding, online marketing, and strategic planning.
Teri E. Hutchison, PRP, AIF, Managing Director at Pensionmark Retirement Group. Teri's expertise is handling Corporate Retirement Plan Management, and regularly hosts Wine Tasting events.
Jennifer Zilliox-Deras, CISR, Assistant Vice President, Commercial Lines at Leavitt Insurance. She brought a guest, Tina Reeve, an Associate at the Leavitt Group.
Sheryl A. Stacy, retired City of Los Angeles employee, also Owner of Jazzy Gifts Inc. She drove from Palmdale with her guest, Sharon Woolfolk, to attend the Chapter meeting. Sheryl is currently holding a new role as AV Regional Manager of Leading Edge Learning Center, based in Palmdale and Victorville.
Ninoshika Baca "Nina", Owner and CEO of Altha Private Security, Inc., which specializes in private security services. She operates locations in the Newhall and Bakersfield areas.
Erica Bristol, Esq., Mediator, specializing in business and personal dispute resolution. Erica's areas of expertise include commercial contracts and transactions, intellectual property, namely copyright, trademark, trade secret, and landlord tenant matters.
Ivy Hirth, Owner of Al Hirth Machining, Inc. Ivy has been running Al Hirth Machining, Inc. for many years, but has only recently become the Owner and President. Her shop specializes in precision machining of small parts with a primary focus on high quality aerospace parts.
Carmen Chivu, CPA at Bessolo Haworth & Vogel, LLP, works with group of CPAs specializing in wealth management, estate planning, business and individual taxation, and auditing. As an Auditor, Carmen handles various midsize companies in industries, namely, manufacturing, retail and wholesale, hospitality, advertising, and food industry. Carmen offered her assistance to members and guests for tax services for their businesses. The Chapter President asked Carmen to speak to members at a future meeting in preparation for the upcoming tax season.
The National Association of Professional Women (NAPW) is the largest and most recognized network of female professionals. NAPW provides a forum where women can interact, exchange ideas, educate, network, and empower. NAPW Local Chapters allow members to maximize their experience through meetings, networking opportunities, and professional events.
For additional information regarding the NAPW Santa Clarita, CA Local Chapter and/or NAPW, please visit http://www.napw.com.
Follow NAPW on Facebook and Twitter.
###