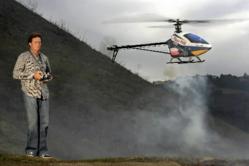 Ontario, CA (PRWEB) January 08, 2013
The Academy of Model Aeronautics (AMA) is pleased to announce that famed Olympic champion, Bruce Jenner, will be attending and speaking at AMA Expo this weekend. Jenner will speak on the main stage on Saturday, January 12 at 1 p.m. at the Ontario Convention Center in Ontario, CA.
Jenner, an AMA member, is an RC helicopter pilot who is often featured on the hit reality television show "Keeping up with the Kardashians" flying and assembling his helicopters. Expo ticketholders will have the chance to hear about Bruce's love of model aviation and take part in a Q&A session scheduled after his presentation.
Model aviation aircraft enthusiasts and anyone interested in radio-controlled aircraft and aviation are encouraged to attend this year's Expo, which offers families and hobbyists the opportunity to shop at booths of more than 100 model aircraft manufacturers, see the latest in technology, learn how to get started in this fun activity, watch flight demonstrations, mingle with aeromodeling experts, listen to presentations by aviation celebrities, view unique exhibits, and enjoy a full weekend of learning and camaraderie.
Friday, January 11 Noon – 6 p.m.
Saturday, January 12 10 a.m. – 6 p.m.
Sunday, January 13 10 a.m. – 4 p.m.
One-Day Pass $13 AMA & EAA members/$15 nonmember
Two-Day Pass $24 AMA & EAA members/$28 nonmember
Three-Day Pass $33 AMA & EAA members/$36 nonmember
A complete list of activities can be found at http://amaexpo.com.
Kids 12 and under free. Any youth 18 and under in uniform or presenting an organization ID gets in free.
Activity duty military free with ID.
The Academy of Model Aeronautics is the nation's collective voice for 155,000 modelers in 2,400 clubs in every state, Puerto Rico, and Guam. The AMA, founded in 1936, is a nonprofit association that sanctions more than 2,000 events and competitions each year under the auspices of the National Aeronautic Association. Headquartered in Muncie, Indiana, AMA is open to the hundreds of thousands of Americans who fly model aircraft for recreation, sport, and education.
# # #