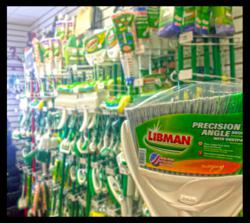 We have introduced the GreenSteps program to guide the company through sustainable development
(PRWEB) January 08, 2013
The Made In America Store is proud to announce Libman as their first Home Cleaning Tools vendor. Libman brings US manufactured brooms, mops and more cleaning supplies to the all American made products store.
The Made In America Store is changing the way consumers see everyday products by making each and every item 100% US manufactured.
The iconic green cleaning tools come in a variety of styles and functions. The list available to the Made In America Store includes five different mops, seven brooms, 17 brushes, dustpans, dish sponges and even a bucket.
Libman brings the Gator Mop, the Household Mop and the Wonder Mop. The Gator Mop is a 9 inch wide, tear resistant sponge with raised cleaning circles. The Household Mop is the basic house cleaning sponge mop equipped with the tear resistant sponge. Lastly, Libman brings their Wonder Mop which eliminates having to bend over to ring out a wet mop. The built in system rings out a wet mop with one simple turn. With extra wide microfiber Gripstrips that are guaranteed to pick up more dirt. Each mop head of the Wonder Mop is detachable and machine washable.
The Made In America Store also carries a variety of brushes from Libman to complete any task. Libman has brushes for toilet bowls, pots & pans, scrubbing brushes and plenty more.
Keep up to date with the Made In America Store with Facebook! "Like" today and receive up to date news and promotions.
For over 110 years, the Libman family has made quality their utmost priority. William Libman started The Libman Company in 1896 with one mission; to make the finest, most durable wire-wound corn brooms. William's sons, grandsons and great grandchildren have since expanded their mission to include the finest mops, brooms, brushes and cleaning tools.
The Libman Company is committed to environmental sustainability in their operations.
"We will achieve continuous improvement in our environmental performance by setting goals, measuring progress and communicating results. We have introduced the GreenSteps program to guide the company through sustainable development," Said a Libman Representative.
Libman uses 95% recycled plastic to manufacture their broom fibers and up to 70% recycled steel to create the mop and broom handles. Libman's product packaging uses eco-friendly and partially recycled materials and their high quality cleaning products are designed to use very little to no chemicals. Libman mop heads are machine washable and can be reused over 100 times, thus preventing hundreds of disposable cleaning pads from being discarded into landfills.
The Made In America Store is the only brick and mortar store that sells 100% made in the United States products from over 350 vendors. Consumers can visit http://www.MadeInAmericaStore.com or call 716-652-4872 to get more information or shop our catalog of over 3,500 items. Both Active Duty Military Personnel and U.S. Military Veterans receive a 10% discount every day. Followers of the "Made In America" movement can keep updated with the Made In America Store through Facebook, Twitter, Google+, Pinterest, FourSquare and even their own blog on Wordpress!