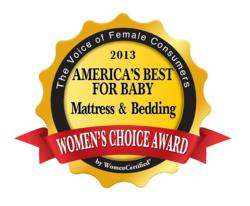 We are proud to work with Sealy and are honored the Sealy baby brand was chosen for the Women's Choice Award. This shows that mothers trust this brand and our quality products to bring safe and supportive sleep to their children
Chicago, IL (PRWEB) January 08, 2013
WomenCertified®, the collective voice of the female consumer, has announced Sealy as winner of the Women's Choice Award for America's Best Baby Brand in the Baby Crib Mattress & Bedding category. The award results from a nationwide poll of thousands of women conducted by WomenCertified® identifying the baby product brands they are most likely to recommend.
'We are proud to work with Sealy and are honored the Sealy baby brand was chosen for the Women's Choice Award. This shows that mothers trust this brand and our quality products to bring safe and supportive sleep to their children," said Tom Koltun, President, Kolcraft Enterprises, Inc., manufacturer of Sealy baby products.
Brands use advertising to drive preference, yet according to Niesen, 92% of consumers say they trust recommendations of others above all other forms of advertising. And, according to numerous female consumer studies by WomenCertified, women are even more inclined to seek out the recommendation of other women.
"We are pleased to salute Sealy for its focus on product excellence, a commitment that is recognized by women consumers nationwide. Word of mouth advertising is still one of the most important ways to spread the word, and Sealy has succeeded in making its baby crib mattress and bedding the most recommended in the category," said Delia Passi, CEO and founder of WomenCertified and former publisher of Working Woman and Working Mother magazines.
About Sealy Baby
For 130 years, Sealy products have been synonymous with comfort, quality, support and innovative technology that bring great rest to every kind of sleeper. Sealy baby crib mattresses and crib mattress pads offer babies quality sleep right from the beginning. From strong steel innersprings to the latest foam technologies to the best natural materials, Sealy baby products provide infants and toddlers superior sleep. Sealy has partnered with 67-year old family-owned and operated baby gear manufacturer Kolcraft Enterprises, Inc. for decades to produce the best Sealy baby products for families and Kolcraft is the leading crib mattress manufacturer in the USA. Visit http://www.sealybaby.com
About WomenCertified®
WomenCertified®, the voice of female consumers, awards businesses and brands based on consumer experience. WomenCertified represents the collective voice of women so they can help each other identify businesses that deserve our loyalty and referrals. WomenCertified awards businesses and brands that meet a higher standard of customer experience the Women's Choice Award. The Award is based on surveys of tens of thousands of women, as well as research conducted in partnership with the Wharton School of the University of Pennsylvania on what drives the consumer experience for women vs. men, which led to the development of the Female Consumer Satisfaction Index. Visit http://www.womencertified.com