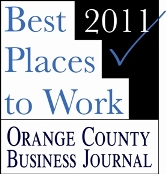 Placentia, CA (PRWEB) January 08, 2013
Every year the Orange County Business Journal conducts a survey to find the "Best Places to Work in Orange County." The program is open to all Orange County organizations that meet the eligibility requirements and there are separate rankings for Small (15-24 employees), Medium (25 – 249 employees) and Large-sized (250 or more employees) companies.
In 2012, three companies led by Convene Members were selected for this honor.
TechMD, led by President Sebastian Igreti, was #18 in the Small Employer category. TechMd provides certified IT support that allows their clients to focus on their business line or mission without a care or concern for their technology systems.
Wright Ford Young & Co., with long-time Convene Member J. Scott Young, was #20 in the Small Employer category. Wright Ford Young & Co. is a CPA firm with services in the fields of income tax, estate and trust planning, transition planning and assurance services.
BDS Marketing, headed by founder and CEO Mark Dean, were #15 in the Large Employer category. BDS has been providing strategic marketing services for clients since 1984. They create custom-built programs to meet their clients' unique needs and are focused on generating sell-through and ultimately ROI.
Founded in 1996, Convene is a dynamic, national community of Christian CEOs and business owners meeting together to help each other build exceptional businesses, become high-impact leaders, and honor God through the principle of "iron sharpening iron."