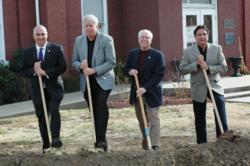 TAHLEQUAH, Okla. (PRWEB) January 07, 2013
Cherokee Nation officials are breaking ground on a project to restore the Cherokee National Capitol building to its late 1800s appearance.
"This project is an important step in preserving an important part of our history," said Cherokee Nation Principal Chief Bill John Baker. "This restoration will see that the original Cherokee National Capitol building stands for years to come, serving as a reminder of the early era of the Cherokee Nation in Indian Territory."
The project will preserve the historic building's existing materials and restore the historic character of the building. Work is scheduled to be completed by this summer.
The restoration includes roof repairs with new decking and historic era shingles, restoration of soffits and fascia, a new gutter system and a cupola replicated to the building's late 1800s appearance. The project also calls for adding new doors and windows, a new back porch and exterior waterproofing for the building's foundation.
"The Capitol has stood as a central piece of Tahlequah's landscape and a part of Cherokee Nation history," said Baker. "It's a tremendous opportunity to restore this landmark to its original appearance and protect for future generations."
The Capitol was built in 1869 and occupied by all three branches of the Cherokee Nation government prior to statehood. Today, it houses the judicial branch of the government. The building is listed on the National Register of Historic Places and is also designated a National Landmark.
The preservation of the Cherokee National Capitol building has been financed in part with federal funds from the Save America's Treasures program, administered by the National Park Service, U.S. Department of the Interior.
About Cherokee Nation Cultural Tourism Group
The Cherokee Nation Cultural Tourism Group is managed by Cherokee Nation Entertainment and promotes the story of the Cherokee people. Efforts by the Cherokee Nation include developing guided community and educational tours, creating tourism partnerships and programs throughout northeastern Oklahoma, and launching a new Cherokee tourism-specific website. For more information, please visit http://www.cherokeetourismok.com.
About Cherokee Nation
The Cherokee Nation is the federally recognized government of the Cherokee people and has inherent sovereign status recognized by treaty and law. The seat of tribal government is the W.W. Keeler Complex near Tahlequah, Okla., the capital of the Cherokee Nation. With more than 300,000 citizens, over 8,000 employees and a variety of tribal enterprises ranging from aerospace and defense contracts to entertainment venues, Cherokee Nation is one of the largest employers in northeastern Oklahoma and the largest tribal nation in the United States.
To learn more, please visit http://www.cherokee.org.