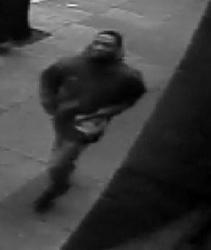 San Francisco. CA (PRWEB) January 07, 2013
On December 28th, at approximately 5 p.m., a 30-year-old woman who has asked to remain unnamed was mugged in the Tenderloin near Leavenworth and McAllister Streets. She was at her car when a man grabbed her and demanded money, according to the San Francisco Police Department.
Roxy, the woman's 12-year-old Pekingese that she adopted two years ago, started barking as the robber rifled through the woman's pockets. He stole $125 in cash. The robber then grabbed Roxy and threw her into traffic, where she was run over and sustained serious injuries. The San Francisco Police Department website reports that Roxy was rushed to a veterinary hospital but had to be euthanized.
The suspect, pictured below, was described by police as a black man, probably in his 30's, 6-foot-1, lean and clean shaven. Video footage of the suspect can be seen on the San Francisco Police Department website. A memorial Facebook page for Roxy has also been started.
The San Francisco SPCA is offering a $500 reward to anyone who comes forward with information leading to the suspect's arrest and conviction. There is also a separate reward fund being collected through Gateway Bank on Clement.
Anyone with information should call the San Francisco Police Department at 415-575-4444.
The San Francisco SPCA
The San Francisco SPCA is an independent, community-supported, non-profit animal welfare organization dedicated to saving, protecting and providing immediate care for cats and dogs who are homeless, ill or in need of an advocate. The SF SPCA also works long-term to educate the community, reduce the number of unwanted kittens and puppies through spaying and neutering, and improve the quality of life for animals and their human companions. The organization does not receive government funding and is not affiliated with any national organization.
Support the San Francisco SPCA by adopting, donating, volunteering and becoming a client of the state-of-the-art veterinary hospital. The SF SPCA has volunteer opportunities to care for shelter dogs and cats, conduct adoption counseling, assist clients and veterinary staff, provide foster care, help with the Community Cats Program, and enrich the lives of people in the community through animal-assisted therapy.
For more information about San Francisco pet adoption, call the San Francisco SPCA at (415) 522-3500 or visit sfspca.org.