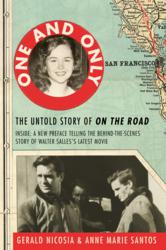 (PRWEB) January 07, 2013
Renowned Beat historian Gerald Nicosia, author of the critically acclaimed MEMORY BABE, and the newly released ONE AND ONLY: THE UNTOLD STORY OF ON THE ROAD, reviewed by the San Francisco Examiner, will be hosting a stellar line up of writers such as from Jack Marshall, Ron Loewinsohn, Joanna McClure, Al Hinkle ("Big Ed Dunkel" from ON THE ROAD), Clark Coolidge, all of who knew Jack Kerouac personally, as well as other extremely respected poets like Pat Nolan, Sharon Doubiago, Latif Harris, and Steve Dalachinsky. Come out to the Sweetwater Music Hall in Mill Valley, CA on January 8th at 8pm to hear these poets as well as accompanying musicians Phil Deal on saxophone and Dana Alberts on guitar.
About Gerald Nicosia
Gerald Nicosia is a biographer, historian, poet, playwright and novelist. His biography of Jack Kerouac, MEMORY BABE, won the Distinguished Young Writer Award from the National Society of Arts and Letters and was called a "great book" by Allen Ginsberg and "by far the best of the many books published about Jack Kerouac's life and work" by William Burroughs. It is still widely regarded as the definitive work on Kerouac. His book HOME TO WAR: A HISTORY OF THE VIETNAM VETERANS' MOVEMENT won numerous honors and was named one of the Los Angeles Times "Best Books of the Year" in 2001. He is currently at work on a biography of Ntozake Shange. Nicosia lives in Corte Madera, California.
Join Gerry Nicosia at these other events:
1/10: San Francisco Public Library, Koret Auditorium – 6-8pm
1/31: San Francisco Public Library, Koret Auditorium – 6:30-8pm
ONE AND ONLY: THE UNTOLD STORY of ON THE ROAD
Beat historian Gerald Nicosia spent years looking for Lu Anne Henderson, the woman who started Jack Kerouac and Neal Cassady on their journey, because he knew that if not for her, the two men wouldn't have taken the road trip that became ON THE ROAD. With the help of Lu Anne's daughter Anne Marie Santos, Nicosia tells the story of the beautiful 15-year-old girl who loved both men, and taught them how to love each other, in ONE AND ONLY: The Untold Story of ON THE ROAD, coming out in paperback January 2013 from Viva Editions, to coincide with the national release of the long-awaited Walter Salles film adaptation of ON THE ROAD. Kristen Stewart portrays Marylou, the character based on Lu Anne Henderson.
One and Only tells the story of Lu Anne Henderson; the beautiful 15 year-old ingénue who married Neal Cassady and made the infamous trip across the country with Neal and Jack Kerouac that became immortalized in ON THE ROAD. In preparing for her role, Kristen Stewart was having a hard time making sense of how Lu Anne could still love Neal, despite his endless cheating on her. After listening to the taped interview that is at the heart of ONE AND ONLY, Kristen said she found the key to playing Marylou in the movie "as her own woman, not Neal's."