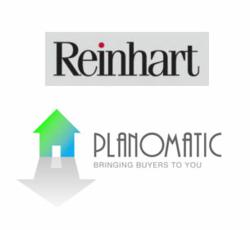 "... More interest generates a quicker sale and often a higher sale price. PlanOmatic delivers the quality we are looking for to make that happen."
Ann Arbor, MI (PRWEB) January 10, 2013
Charles Reinhart Company, the definitive real estate leader in the greater Ann Arbor area, and PlanOmatic, one of the fastest growing full service providers of interactive floor plan and photography marketing solutions in the US, have formed a new deal. Effectively, Reinhart is the first southeast Michigan brokerage to join the PlanOmatic family of corporate accounts.
Through this relationship with PlanOmatic, Reinhart is now exposed to exclusive pricing and services not available to other brokerages.
"I've had my radar on Reinhart since PlanOmatic's inception back in 2005 from a basement in Ann Arbor," said Aaron Rose, Vice President, Corporate Accounts at PlanOmatic. "We share the same values today as we did back then when it comes to quality, technology and branding. There's no other place I'd rather make a difference than in Ann Arbor where I grew up."
"People looking for a home to buy use the internet to educate themselves on market conditions and to save on running around time," said Marsha Volchoff, Vice President, Operations at Reinhart. "A high quality visual presentation of the property can make the difference in getting more buyers to make a site visit. More interest generates a quicker sale and often a higher sale price. PlanOmatic delivers the quality we are looking for to make that happen."
Founded in 1971, Reinhart is the market leader in the greater Ann Arbor area, including Washtenaw, Jackson, southern Livingston, northern Lenawee and western Wayne Counties, with annual sales volume of more than $732 million. Today Reinhart has 7 offices serving a large portion of southeastern Michigan. With their strong commitment to ethics, education, management, marketing and technology, and to providing a work environment that encourages personal growth and creativity, they have continued to be the area sales leader throughout their history.
PlanOmatic offers full service floor plan and photography interactive home tours in regions across the US. They are best known for high quality photography, customer care and being a technology leader in the industry. PlanOmatic was the first real estate marketing firm to offer PhotoPlan Mobile, an interactive floor plan optimized for iOS devices (Apple's iPhone, iPad and iPod touch). PlanOmatic offers an array of software licensing services in addition to their PlanOmatic PhotoPlan division.