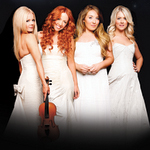 Since its formation in 2004, Celtic Woman has emerged as both a spectacular commercial success and a global cultural phenomenon.
Worcester, MA (PRWEB) January 17, 2013
The enchanting Irish musical ensemble Celtic Woman returns to America for an expansive four-month concert tour, beginning on February 21 at The Hanover Theatre for the Performing Arts in Worcester, MA and following on the heels of the group's sold-out Christmas Celebration tour. For completed tour schedule and ticket information, visit http://www.celticwoman.com
Celtic Woman combines the talents of four gifted Irish women—vocalists Chloe Agnew, Lisa Lambe and Susan McFadden, and violinist Máiréad Nesbitt—whose dazzling performances combine the sounds and sensibility of Irish traditional music with memorable original compositions and contemporary pop standards. The 2013 tour boasts an exciting new stage production and the return of such enduring fan favorites as "You Raise Me Up" and "Orinoco Flow."
Since its formation in 2004, Celtic Woman has emerged as both a spectacular commercial success and a global cultural phenomenon. The group's uplifting mix of timeless tradition and contemporary craft has transcended national and cultural borders to touch the hearts of a devoted international fan base, who've embraced Celtic Woman's Public Television specials and made their CDs and DVDs into multi-platinum bestsellers. The group's albums have sold more than seven million copies around the world. Like all eight of their albums, the group's two 2012 releases, the acclaimed "Believe" CD/DVD and the holiday-themed CD "Home For Christmas," both debuted at #1 on Billboard's World Music chart.
Celtic Woman recently made their soap opera debut as featured guests in multiple episodes of the CBS daytime drama "The Bold and the Beautiful."
Having sold more than 2.2 million concert tickets worldwide, Celtic Woman has won a loyal audience in America, where their elaborately staged, visually stunning concert tours consistently draw sellout crowds. Singing songs of love, loss, hope and inspiration, Celtic Woman celebrates the emotional resonance of Ireland's centuries-old musical and cultural heritage while taking advantage of the limitless options of state-of-the-art production. The result is a breathtaking musical and theatrical experience to be enjoyed by multiple generations of listeners.
Tech rehearsals will take place February 18-20. For interview opportunities, please contact Lisa Condit or Laurie Carr at marketing (at) thehanovertheatre (dot) org.
About The Hanover Theatre
The Hanover Theatre for the Performing Arts, located in downtown Worcester, New England's second largest city, is recognized by Pollstar as one of the top 50 theatres in the world. After undergoing many name changes and renovations over the decades since its 1926 birth, The Hanover Theatre reopened in March 2008 following a $32 million historic restoration. Since then, the theatre has established its place as a rich entertainment and cultural venue, winning numerous awards, including The National Trust for Historic Preservation Award in 2010. Now in its fifth season, The Hanover Theatre continues to expose over 170,000 annual patrons to world-class entertainment in the form of Broadway, concerts, comedians and much more. For more information, visit TheHanoverTheatre.org. Worcester Center for the Performing Arts, a registered not-for-profit 501(c)(3) organization, owns and operates The Hanover Theatre for the Performing Arts. All donations are tax deductible to the fullest extent allowed by law.