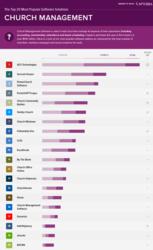 The best software for your church may not be one of the top 20, but it's a good list to start with.
(PRWEB) January 15, 2013
Capterra, an online service that connects buyers and sellers of business software, released a new infographic today - The Top 20 Most Popular Church Management Software Solutions. ACS Technologies, Servant Keeper and PowerChurch Software nabbed the top 3 spots, based on Capterra's popularity index.
The index ranks church management software providers based 40% on the number of churches who use the software, 40% on the estimated number of church members managed, and 20% on the company's online presence. The goal of the infographic is to help church managers navigate the hundreds of software options available.
"The best software for your church may not be one of the top 20, but it's a good list to start with" said Capterra CEO Michael Ortner. "It's a lot better than picking a software package just because your friend uses it at his church. All churches have different needs."
Church Management software handles everything from online donations to attendance tracking. Capterra's Church Management Software Directory lists 150 solutions on the market, allowing church managers to compare solutions and find which ones best meet their needs.
"I may sound like a broken record, but it's absolutely critical that you consider your church's specific needs," said Ortner. "Software is designed to make your life easier. Picking the wrong one will do the exact opposite."
This is Capterra's sixth infographic in its 'Top 20 Most Popular' series. The company has also released top 20 rankings for Marketing Automation Software, Electronic Medical Records (EMR) Software, Learning Management Systems, Field Service Management Software, and Talent Management Systems.
About Capterra
At Capterra, we believe software makes the world a better place. That's why we love connecting buyers and sellers of business software. Our website shows companies all of their options and provides free tools to help them make the right decision. We provide software companies with a free listing on our comprehensive directory and give them the opportunity to upgrade for more exposure. For more information, visit http://www.capterra.com.