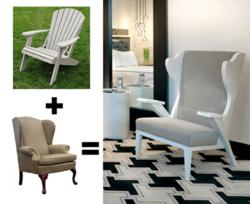 West Hollywood, CA (PRWEB) January 10, 2013
The "Sunset Chair" by Thomas Schoos may seem entirely new, but a closer look reveals that the chair's elements come from two very familiar sources: the Queen Anne Wing Chair that evolved in the 18th century, and the Adirondack Chair, a classic from the early 20th century. The contrasting elements come together in this fresh hybrid that has the classic style of a formal armchair yet the casual appeal and comfort of a beach recliner. It is perfect for modern homes or environments with an indoor/outdoor vibe.
Combining styles, periods and materials is one of Schoos' favorite techniques for coming up with new furniture designs. "I love to merge the old and the new," explains Schoos, who is responsible for some of the most successful restaurants in the U.S., as well as numerous celebrity homes. "It creates a juxtaposition that catches the eye. I love the beauty of classical forms but when you give them a modern twist, it makes them more casual and friendly. They fit better into our modern lifestyles."
Although Thomas Schoos is best known as a restaurant/hotel designer, part of his success is based on his skill and imagination as a furniture designer. That is because most of his interior design projects depend on his own custom-designed furniture pieces to bring them to life. A version of the Sunset Chair, for instance, was originally created for the Hotel Frank in San Francisco. Last year, his award-winning restaurant for Iron Chef Morimoto in Mexico City featured all custom-designed interiors including original furniture and art. Realizing that there is a market for his furniture pieces outside of just the hospitality industry, Schoos opened a showroom last year in West Hollywood, CA, as well as the Schoos Online Shop where individual customers can purchase his original creations, including the latest version of the Sunset Chair which retails for $4,195.
The Sunset Chair is only one of the many original Schoos furniture designs that update or modify classic forms. As seen in the Schoos Online Shop, the Spaniard Chair adds frills and wood accents to a classic Baroque design, the Englishman chair is a classic club chair that is wide enough to seat two people, and the Nob Hill chair is a Queen Anne that sits low to the ground and has taxi-cab-yellow leather upholstery. Besides furniture, the Schoos Online Shop also has smaller items and accessories such as lighting, mirrors, hardware and planters that feature original designs by Schoos.
The secret to successful furniture design, according to Schoos, is borrowing from the best and being fearless enough to rethink the classics in your own terms. "There's nothing new under the sun," adds Schoos. "It's all in what you do with it to make it your own. That's what makes it special."
Thomas Schoos is known as designer of some of the most successful hospitality venues in the U.S., ranging from Tao Restaurant and Nightclub at the Venetian Hotel in Las Vegas, which has been the top-grossing restaurant in the U.S. every year since it opened in 2005, to Searsucker in San Diego, voted by OpenTable as the second most popular restaurant in the country in 2011. Schoos has partnered with celebrity chefs like Iron Chef Morimoto and Top Chef's Brian Malarkey to design numerous restaurants in many cities, with dozens more planned. Meanwhile, Schoos continues his career as an artist and painter, contributing original works to many of his projects and even incorporating art into their structures and designs. This year, his design for Morimoto Mexico City was named one of two finalists in the Hospitality Design Awards for Fine Dining.
For more information on Schoos products and designs, or to interview Thomas Schoos, please contact our PR department by email at pr(at)schoos(dot)com or call Matthew Hutchison at 323-822-2800. Information is also available on the Schoos Design website at http://www.schoos.com.
# # #