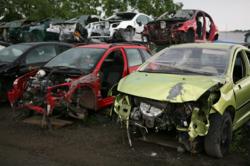 Toronto, Ontario (PRWEB) January 09, 2013
Insurance fraud is an enormous problem in Canada, with estimates of a cost of $1.6 billion in Ontario alone in 2012 according to a KPMG Canada study. icandrive.ca offers tips for drivers to help stop insurance fraud and help keep cheap car insurance rates available to everyone.
Types of Insurance Fraud
There are a number of different types of insurance fraud ranging from large-scale crime rings to individual drivers who inflate or falsify claims. While crime rings involved in auto theft operations may have the biggest impact financially, every case of insurance fraud affects the ability of Canadians to get cheap car insurance by forcing companies to raise rates.
Falsely reporting a car stolen, claiming previous damage to be part of accident damage, and staging a claim are all types of insurance fraud that are illegal and add to the cost. Providing false information when requesting car insurance quotes can also constitute insurance fraud. Additionally, inflating the cost to repair a vehicle in order to increase the insurance payout is fraud as well. icandrive.ca recommends that all drivers learn to recognize insurance fraud and be prepared to report it.
Recognizing and Avoiding Fraud Situations
Fraud is not always easy to recognize, but it's always a good idea to be on the lookout for anything suspicious in an auto theft situation or when involved in an accident. Follow all insurance company policies when it comes to reporting an accident and be truthful when filing a claim. If another driver involved in an accident shows signs of suspicious behavior or suggests falsifying anything on the claim, report it to the insurance company right away.
Have repairs done at a reputable repair shop; most insurance companies can provide a list of shops they have worked with in the past. Report any attempt to inflate the cost of the repairs, and be sure to check over the invoices carefully.
When buying a used car, use caution to avoid purchasing a stolen vehicle. Run a vehicle history report on any used car you are considering, and be on the lookout for any signs of tampering with the VIN number on the vehicle. Buy used vehicles from reputable dealers when possible, and use extra caution with private party purchases.
Reporting Insurance Fraud
icandrive.ca recommends that anyone who has information relating to an insurance crime should report it through the Crime Stoppers tip line or directly to the IBC through their website or toll-free tip line. Reporting insurance fraud is a vital part of reducing the impact of this crime on Canadian insurance rates as well as reducing the use of resources involved in fighting fraud.
All Canadians can join in the fight against insurance fraud this winter and help stop rising insurance rates. Reporting all suspected insurance crimes immediately helps icandrive.ca continue to provide affordable car insurance quotes.
About icandrive.ca
icandrive.ca helps Canadian consumers connect with insurance brokers and agents to get the lowest possible insurance rates. Compare insurance rates from over 30 insurance companies through our compare a quote tool. Our business is dedicated to providing the most up to date and useful insurance related information to Canadian drivers. By showing how and where you can save money you can benefit from all the available savings and pay less for your insurance coverage.