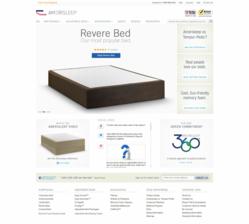 Save $250 off any Amerisleep mattress with code "take250".
Tempe, AZ (PRWEB) January 08, 2013
Mattress retailer Amerisleep announces memory foam mattress sale, providing deep discounts this week only to those looking for healthier sleep for the new year.
As many make resolutions to sleep better in 2013, its worth keeping in mind that a comfortable new bed can make a big difference. And in nearly every consumer report and survey, memory foam remains the best-rated mattress type - a feat likely owed to its properties of pressure point reduction, durability, alignment support, and resistance to motion transfer.
The Amerisleep line distinguishes itself in the industry with plant-based memory foam mattresses shown to sleep cooler and offer greater responsivity than traditional foam. Other features that stand out include environmentally friendly manufacturing practices, being made in the US, a 20 year warranty and the risk free trial period.
These properties have allowed the brand to achieve high marks with customers. In verified Amerisleep mattress reviews, owners give an average rating of 4.5 stars and up out 5. Their top selling model remains the plush Liberty Bed, which has nearly one hundred customer reviews with an average 4.6 stars and 98% recommendation rate. The medium firm Revere is the best-rated bed, with an average 4.7 stars and 99% recommendation rate.
The sale, beginning January 7th and lasting through the following weekend, offers mattress prices starting at $399. Shoppers can apply the discount of $250 to any memory foam mattress and any size, and enjoy 10% off accessories using promo code "take250" at Amerisleep.com.
Amerisleep, owned by online retail collective OneMallGroup, retails highly-rated memory foam mattresses, adjustable beds and related accessories, in business since 2008. The company defines itself by exclusively offering American-made, environmentally sustainable products at competitive prices. Visit Amerisleep.com for more information.