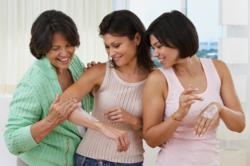 Try to avoid excessive hand washing and showers and always moisturize afterwards.
(PRWEB) January 22, 2013
With winter and its cooler weather here, skin is even more susceptible to drying and flaking. While obviously an aesthetic problem, since rough skin is not appealing to sight or touch, it can also be a question of skin health. Dry skin can be very itchy and can often times break open, causing significant pain. Keeping dry skin hydrated can be a challenge, here are some tips.
The cold weather dries out skin because of the lower levels of humidity compared to warm weather. Humidity is a measure of the moisture in the air. When there is less moisture in the air, skin absorbs less. Turning on a heater in cold weather is another factor towards skin dryness because it pulls moisture out of the air while heating.
Guard skin during winter. Try to avoid excessive hand washing and showers and always moisturize afterwards. For men who don't want to put on anything that smells, try shopping for an unscented product.
Despite the best prevention, sometimes dry skin just happens; It happens to many people too. Skin Laboratory recommends a peel containing lactic acid. The Lactic acid works as a natural humectant, pulling moisture from the air and dermis and holding it in the outer layers of skin. This allows it to gently exfoliate the skin without being drying.
Protect skin this holiday season to avoid dryness and cracking. Moisturize often and use a lactic peel if you need to treat a skin condition but want to avoid drying out your skin.
About Skin Laboratory
Skin Laboratory manufactures a line of aggressive, results oriented products with specific protocols that target all skin types and improve a variety of skin conditions. Savvy consumers, who are no longer willing to age gracefully, are demanding solutions to maintaining a youthful looking appearance and many of these consumers are finding solutions with Skin Laboratory products.