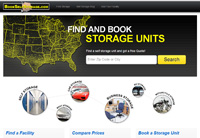 Storage customers are encouraged to find a storage facility at a location that is convenient for them and to book a storage unit at the price and special offered, before they lose it
North Miami Beach, FL (PRWEB) January 09, 2013
Comparing multiple facilities on one results screen, shopping for the right storage unit price and reserving that perfect unit online, is now a reality, and rapidly becoming more popular by the second. Conveniently and easily reserve a self storage unit at the location of your choice, 24 hours a day, 7 days a week, and 365 days a year. The internet is always open for business and so is USSelfStorageLocator.com and its powering sites.
This progressive move will ensure that all of its network members will benefit by having their facilities prominently displayed, multiplying their exposure and ultimately bringing more reservations increasing occupancy and gross revenue. The added internet presence does not come with an additional price tag. All companies that are network members of USSelfStorageLocator.com will have their facility result and profile shown on all of the websites which they power, at no additional costs.
USSelfStorageLocator.com offers consumers the best online shopping comparison options in the industry. Potential tenants could compare facilities price, discounts, amenities and more side by side. Their partnerships with major property management software companies and their ability to pull and push data in real time, provides customers with accurate prices and discounts.
"Storage customers are encouraged to find a storage facility at a location that is convenient for them and to book a storage unit at the price and special offered, before they lose it," said Victor Dante, CEO and Founder of USSelfStorageLocator.com. Self Storage facilities prices and specials fluctuate depending on their occupancy. The Self Storage industry continues to grow and people throughout the Country are recognizing the various uses and advantages of renting self storage.
USSelfStorageLocator.com has evolved into one of the more prominent self storage lead generators in the industry. Their ability to integrate with major property management software companies in real time, provide advanced back end administrative technology to their network members and their low price point, which gives facilities the best return on their investment, makes them a favorite amongst Self Storage operators in the industry.