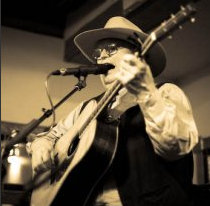 Santa Fe, New Mexico (PRWEB) January 07, 2013
Santa Fe dining institution and reliable entertainment hotspot Cowgirl has been serving the goods to visitors and locals when it comes to great food and music since 1993. During 2012, Cowgirl brought entertainment in virtually every single night of the week, much to the delight of both locals and visitors. 2013 at the Cowgirl is no different with music set for pretty much each night of the week during the month of January. From 2 – 5 p.m., Saturday, Jan. 19 2013 the Cowgirl has 'The Bill Hearne Trio' scheduled to perform for customers with their unique style of country music. Santa Fe, NM's premier on-line visitor guide SantaFe.com, has this event listed on the company's event calendar.
Dallas born Bill Hearne finds the way into a song's interior with a baritone as mellow as bourbon and smoky as a Texas pool hall and a picking style that satisfies both the feet and heart. At its best, country music is elegiac, a meat and potatoes campfire poem about heartbreak and redemption. It's about truth, the kind that hurts and the kind that heals. In lesser hands, it's also a cliché. Many times country songs are about things like a broken man in faded-jeans on a barstool, 'A Dear John' letter fluttering in the hot Texas wind or a train song and an empty bed. Mr. Hearne never lets this potent iconography off the hook. Whether burning through a roadhouse number or staggering through the valley of heartaches, Hearne never lies. When Bill sings and plays the singer really feels it, and so does the audience.
About Cowgirl:
Since 1993, the Cowgirl, which now occupies almost the entire block where it started, includes a restaurant, a billiard parlor, a commercial catering kitchen and several private party rooms. The patio is one of the most inviting summertime venues for locals and tourists alike and the Cowgirl has become a local institution.
About SantaFe.com:
SantaFe.com provides locals and visitors to Santa Fe alike the most current interactive platform for events, music, arts, business, dining and lifestyle. SantaFe.com is a division of Hutton Broadcasting, located at 2502 C. Camino Entrada, Santa Fe, NM 87507.
Contact Information:
Scott Hutton
SantaFe.com / Hutton Broadcasting
(505) 471-1067 (Media inquiries only, please)
Contact Information:
Barry Secular
Cowgirl
319 S. Guadalupe St.
Santa Fe, NM
505-982-2565