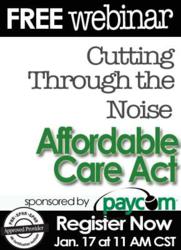 (PRWEB) January 08, 2013
Not a day goes by in the national media when the Affordable Care Act, commonly referred to as Obamacare, isn't discussed. Companies have received negative national attention for reducing employee hours and laying off workers to lower healthcare costs, and for not offering company health insurance. The question arises, what's really going on here?
Learn about the individual mandate and the employers' play-or-pay requirement and how it poses even greater challenges. This provision goes into effect January 1, 2014, which gives employers a year to create a game plan and iron out compliance obligations. An expert panel will discuss the requirements arising from the upcoming law change in 2013 that companies must comply with, as well as fines and penalties outlined in the 1,400-plus page law.
This webinar, sponsored by Paycom, is approved for 1.0 HRCI credits and will cut through the noise about the Affordable Care Act, providing HR leaders and business owners details into 2013 requirements, Medicare holdings, and healthcare spending caps. 2014 requirements and beyond will also be discussed, as well as what employers can expect as far as costs, co-insurance, and plan limitations. Attendees can register for the webinar at http://b4j.co/ACAwebinar or by visiting the Blogging4Jobs website.
The panel of experts will keep attendees up to date on critical health care reform changes, instruct on how to stay in compliance, and how to start preparing organizations and employees now before it's too late.
Jessica Miller-Merrell, SPHR, is an author and workplace technology strategist who writes at Blogging4Jobs.com. Her company, Xceptional HR, offers technology, mobile, and social media consulting for HR, recruiting and senior leadership teams. Her book - The Social Media Workplace Guide - will be available spring 2013.
Michael D. Haberman, SPHR, is a consultant, writer, speaker and co-founder of Omega HR Solutions, Inc. He has been in the HR field for 30 years as a practitioner and HR consultant. He has served as an HR trainer and instructor for 14 years specializing in HRCI re-certification.
Interested parties can visit the blog's website at blogging4jobs.com and register for the free webinar.
Blogging4Jobs is the leading human resources and workplace blog in the world providing HR news, social media, and technology trends. Founded in 2007 by Jessica Miller-Merrell, SPHR, the website takes a practitioner's point of view.
Oklahoma City-based Paycom pioneered the Internet payroll market in 1998 as the first 100 percent online payroll provider. Now with a robust suite of HR technologies, Paycom is the largest and fastest-growing exclusively online provider of payroll and human capital technology in the U.S. Paycom serves customers in all 50 states from 21 offices across the country.