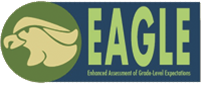 We value the relationship we have created with the LDOE and look forward to continuing to serve the administrators, teachers and students
Monterey, Calif. (PRWEB) January 08, 2013
Pacific Metrics Corporation (http://www.pacificmetrics.com) has been selected by the Louisiana Department of Education (LDOE) to continue maintaining the Enhanced Assessment of Grade-Level Expectations (EAGLE) system through June 2016. Originally developed by Pacific Metrics in 2006, the EAGLE system is an online classroom tool that works seamlessly to link information between students, teachers and administrators and supports formative assessments in English language arts, mathematics, science and social studies for students in grades 3–12.
EAGLE leverages technology to deliver a range of item types including multiple choice, constructed response and writing prompts and provides data to inform instruction throughout the academic year. Over 1.5 million tests were completed by students using the EAGLE system in the 2011–2012 school year. Under the renewed contract, Pacific Metrics will assist Louisiana with the transition to the Common Core State Standards (CCSS) with new functionalities including updated user-friendly reports and technology-enabled items that are aligned to the CCSS. EAGLE will also benefit by the use of Pacific Metrics' web-service that will allow student responses to constructed response items to be scored by CRASE®, Pacific Metrics' automated scoring engine.
Pacific Metrics will provide comprehensive professional development for the EAGLE system through yearly onsite workshops and updated handscoring tutorials that will keep teachers and administrators up-to-date on changes to the CCSS and the Partnership for Assessment of Readiness for College and Careers (PARCC) assessments in the upcoming years. Additional EAGLE resources include an online training website, user guides, teacher and student tutorials and a phone and email-based help desk.
"Over the past 6 years, we have developed and refined the EAGLE system to support the Louisiana Department of Education," says Becky Clifton, Program Manager at Pacific Metrics. "We value the relationship we have created with the LDOE and look forward to continuing to serve the administrators, teachers and students."
For more information about EAGLE or any of Pacific Metrics' assessment solutions, email info(at)pacificmetrics(dot)com or call (831) 646-6400.
About Pacific Metrics
Pacific Metrics Corporation creates lasting improvements to the assessment and learning environment through the thoughtful use of technology. Headquartered in Monterey, California, Pacific Metrics provides specialized psychometric software and sophisticated online systems to state departments of education and to organizations that develop, administer, and score large-scale assessments. The company has achieved recognition for its technical work and for being a leading force in the development of innovative, customized, web-based systems. For more information, visit http://www.pacificmetrics.com.