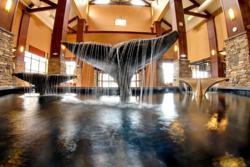 Anchorage, Alaska (PRWEB) January 07, 2013
The Embassy Suites Anchorage Alaska Hotel Employees received nominations for the Stars of the Industry Award Program by the Alaska Hotel & Lodging Association. Nominees are chosen based on Alaska hospitality employee and manager of the year standards for outstanding leadership in housekeeping, front office, administrative, accounting, food and beverage, and sales and marketing duties within the hotel. Nominees for Employee of the Year for housekeeping include Gemma Borje and Rosalina Gamiao. Nominee for Employee of the Year Housekeeping Room Attendants is Avanel Fendlay. Employee of the Year, Front Office nominees include Corrin Hysom and Glen Graham. Employee of the Year, Accounting & Administrative/Clerical duties is Gina McCandless. Manager of the year, Maintenance/Engineering & Security is John Arvidson. Manager of the Year, Food and Beverage department includes Keli'l Caravalho. Manager of the Year for Housekeeping is Susan Oria. Manager of the Year, Front Office is Tracy Brown and Manager of the Year, Sales/Marketing is Bonnie Worrick. All guests and nominees of the award ceremony will gather at the Anchorage Marriott Downtown on Saturday January 26th.
The Embassy Suites Anchorage Alaska is centrally located in mid-town Anchorage, just a few short miles from the Ted Stevens International Airport. Hotel amenities include free high-speed wireless internet, business center, state-of-the-art fitness center, and fine dining at the hotel's prestigious Pi Kitchen + Bar. For more information or reservations, contact the Embassy Suites Anchorage, Alaska hotel directly at 907-332-7000, or visit the hotel's website. The Embassy Suites Anchorage, Alaska is proudly managed by Stonebridge Companies in Denver, Colorado.
Founded in 1991 by Navin C. Dimond, Stonebridge Companies is a privately owned, innovative hotel management company headquartered near Denver, Colorado, which has developed over 60 hotels and operated more than 75 lodging properties. Currently, Stonebridge Companies is operating 42 hotels and developing 8 others comprising in excess of 7,000 guest rooms in Alaska, Arizona, California, Colorado, Nevada, New York, Utah, Virginia and Washington. The diverse portfolio includes select-service, extended stay, mid-scale and full-service hotels in primary and secondary markets. For detailed information, visit our website at http://www.SBCOS.com.