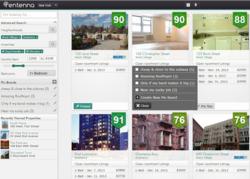 Rentenna's Pin Boards reflect renters' social approach to apartment search.
New York, NY (PRWEB) January 08, 2013
New York-based apartment search and ratings site Rentenna released its "Pin Boards" feature to all users today, giving apartment-hunters a powerful new tool for organizing and sharing their apartment search.
As users search Rentenna for their next apartment, they can "Pin" properties of interest onto "Pin Boards" – organizing properties into groups according to price range, neighborhood, or other factors such as amenities (e.g., "Buildings with Awesome Rooftops") or proximity to subway lines (e.g., "Apartments near the F Train").
Each Pin Board features a unique URL that the apartment seeker can copy with the click of a button and then share via email or social media platforms such as Facebook and Twitter.
"Apartment-hunting is an inherently social process," says Rentenna co-founder and New York Times rental expert Alicia Schwartz. "The typical renter considers multiple properties, and seeks out the opinions of friends, colleagues, potential roommates, or brokers to help make their decision. Rentenna's Pin Boards reflect renters' social approach to apartment search."
The release of Rentenna's Pin Boards comes just one month after the startup unveiled its new user interface, which has driven strong increases in both the volume and quality of traffic to the site.
"We've seen huge gains in engagement since the release of the new interface in December," explains CTO Kevin Dolan. "Both pageviews and time-on-site have increased some eightfold per visitor, while bounces have dropped off substantially." He continued, "We've always ranked well in search results, but we're also seeing a lot of growth in direct traffic. We're excited about the power of our new Pin Boards feature to accelerate these trends."
Rentenna is a groundbreaking interactive apartment search and comparison tool that rates rental buildings on a scale of 1-99, helping apartment seekers quickly and efficiently sort through thousands of options to find their ideal rental. Launched in New York City in 2011, Rentenna has been featured by The Wall Street Journal, New York Times, Curbed, The Real Deal, NY Post, AGBeat, AM New York, NY1, The Huffington Post, BrickUnderground, and other leading media sources.
###