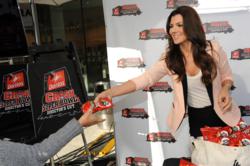 Los Angeles, CA (PRWEB) January 09, 2013
Ali Landry, who rose to fame 15 years ago by starring in a Doritos Super Bowl ad, reunited with the brand to announce the five finalists for this year's Doritos Crash the Super Bowl contest.
Selected out of thousands of entrants, the five finalists will now compete for the chance to have their ads air during the Super Bowl XLVII broadcast on Feb. 3, 2013 on CBS. Two ads will air — one selected by America's votes and one by the Doritos brand team. The finalist whose ad scores highest on the USA TODAY Ad Meter rankings will be awarded the career-changing opportunity to work with acclaimed film director Michael Bay on the next installment of the blockbuster "Transformers" movie franchise, along with a shot at a $1 million bonus. This marks the seventh year in a row consumers have created Super Bowl ads for Doritos.
Fans can vote each day for their favorite Doritos commercial on the Doritos Crash the Super Bowl-branded app on the Doritos Facebook Page (http://www.facebook.com/DoritosUSA) and/or on the Facebook mobile app from January 4 to January 29.
"In 1998 little did I know that my participation in a Doritos Super Bowl commercial would change the rest of my life," said Landry, who will be in the Los Angeles area today casting her vote in the contest and greeting fans.
Landry launched her acting career on the heels of her eye-catching performance in the 1998 Doritos Super Bowl ad titled "Laundromat." Following her success on the Super Bowl stage, she achieved recurring roles on popular television shows, including "Felicity," "Two Guys and a Girl," "Sunset Beach," and "Popular," in addition to three seasons on the hit UPN network series "Eve." She also earned a number of hosting credits including the music-talk show "Farm Club.com," NBC's "Spy TV," and "Full Frontal Fashion" on WE.
Since Crash the Super Bowl began in 2007, consumer-created Doritos ads have consistently ranked within the top-five spots of the USA TODAY Ad Meter, and three of the last four years they have scored the No. 1 ranking.
The five Crash the Super Bowl finalist ads (in alphabetical order by finalist last name) are:

"Goat 4 Sale" by Ben Callner from Decatur, GA
"Road Chip" by Tyler Dixon from San Diego, CA (currently resides in Los Angeles, CA and Lehi, UT)
"Fashionista Daddy" by Mark Freiburger from Charlotte, NC (currently resides in Los Angeles, CA)
"Express Checkout" by Sasha Shemirani from San Diego, CA (currently resides in Los Angeles, CA)
"Fetch" by Joe Taranto from Melbourne, FL (currently resides in Los Angeles, CA)
Each of the five finalists win $25,000 and a trip to New Orleans to attend Super Bowl XLVII in a private luxury suite at the game, where they will tune in to learn for the first time which of their Doritos ads will compete for the top spot in the USA TODAY Ad Meter before a worldwide audience. Bonus prizing will be awarded, based on how each ad ranks on the USA TODAY Ad Meter:
$1 million will be awarded for an ad that scores the No. 1 spot on the USA TODAY Ad Meter
$600,000 will be awarded for an ad that scores the No. 2 spot on the USA TODAY Ad Meter
$400,000 will be awarded for an ad that scores the No. 3 spot on the USA TODAY Ad Meter
Broadcast quality video, photo stills and press information are available to the media to preview, download and share at http://www.magicbulletmedia.com/MNR/crashthesuperbowl