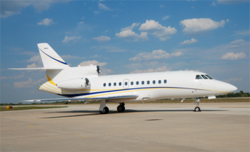 SAN JOSE, California (PRWEB) January 08, 2013
TWC Aviation today announced that its Falcon 900 charter jet in Monterey, California has a completely new interior featuring Wi-Fi high-speed Internet access. This 12-passenger Falcon 900 with its spacious, elegantly appointed cabin has a range of nearly 3,500 nautical miles and a cruising speed of 500 knots. The Falcon 900 is powered by three-engines offering unparalleled performance and reliability for long overseas flights or departures from high-altitude airports.
High-Tech Connectivity, Communications, and Entertainment
With the Aircel Wi-Fi system, multiple passengers have broadband access to the web and email. The Iridium satellite phone provides telephone access while in flight anywhere in the world. There is also a touchscreen entertainment system with two Blu-ray players and high definition monitors. The two-wire connection ports for iOS devices such as iPhone or iPad enable passengers to play movies on the central cabin monitor or music through the aircraft speakers and headphones.
Beautifully Refurbished Inside and Out
The recently refurbished bright and spacious cabin features executive seats covered in premium earth-tone leathers, complemented by a comfortable three-place divan and highly polished wood throughout the cabin. Other amenities include Airshow, a full galley with both microwave and conventional ovens, and a fully enclosed lavatory with vanity. The newly painted exterior is white, with royal blue and goldenrod accents.
For a charter quote on this Falcon 900, email jetcharter(at)twcaviation(dot)com or call +1.818.441.0100
About TWC Aviation, Inc.
TWC Aviation provides aircraft management, brokerage, jet charter, and jet card services to clients worldwide. TWC Aviation manages a diverse fleet of more than 50 business aircraft throughout the U.S. and abroad, with offices in San Jose, Los Angeles, and New York. The company's fleet includes jets from Bombardier, Dassault, Cessna, Embraer, Gulfstream, Boeing Business Jets, and Hawker Beechcraft. TWC Aviation is audited by independent safety organizations: IS-BAO, Wyvern, and ARGUS. Aircraft operate under FAA Air Carrier Certificate BZUA138N. TWC also maintains an FAR Part 145 Repair Station certification. More information is online at http://www.twcaviation.com.