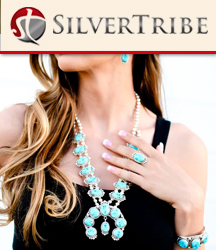 SilverTribe needs a star for its next commercial and that star could be you.
Scottsdale, AZ (PRWEB) January 10, 2013
An online leader in Native American and Southwest art and jewelry needs a star for its next commercial and that star could be you. SilverTribe is sending out an open casting call to its customers and fans to appear in its next commercial, and potential candidates can audition from the comfort of their own home.
"We thought this was a great way to reward our loyal customers and fans," said SilverTribe spokesman Chris Anderson. "Our customers are the best in the world and they deserve to be the stars of our latest spot. The combination of our exquisite jewelry and our amazing fans for our next commercial is just too perfect to pass up."
SilverTribe is asking those interested to send photos of themselves wearing their favorite SilverTribe piece to support(at)SilverTribe(dot)com with the subject line: "ST Casting Call". Entries will be accepted until January 24, 2013.
"The winners will appear in our new YouTube commercial later this year," said Anderson. "All entries will be considered and we encourage fans to submit as many photos as they like."
Anderson said customers can take photos wearing bracelets, earrings, necklaces, rings, watches, belt buckles or anything else that was purchased on SilverTribe's site.
Anderson is also encouraging those who have yet to do so to sign up for their Preferred Member Program. Preferred Members will receive the latest news and updates throughout the year, and will be the first to know about special sales and discounts.
For more contest information or to view the vast collection of Native American and Southwest art and jewelry, please visit SilverTribe.com.