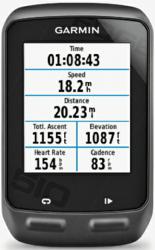 Garmin added real-time data transfer through your Smartphone so you can share your data on social networks and connect to Garmin Connect in real-time
Bozeman, MT (PRWEB) January 08, 2013
Garmin Edge 510 is the new, and improved, version of the Edge 500 bike computer, long a favorite in the professional ranks as well as among cyclists everywhere according to Heart Rate Watch Company.
"Garmin added real-time data transfer through your Smartphone so you can share your data on social networks and connect to Garmin Connect in real-time", says Rusty Squire, President of the Heart Rate Watch Company. He adds, "It also has touchscreen navigation, a barometric altimeter and the ability to display twice as many data metrics as the old Edge 500, so it is quite an improvement".
The units are available for advanced order and are scheduled to be on dealer shelves sometime in early February according to Squire.
"Garmin Edge 510 is a significant advancement and if you add the new Garmin Edge out front bike mount you have a high performance combination" says Squire. He adds, "We've had riders on Team Rockford already out testing the new set up in sub-30 degree temperatures and the feedback has been excellent".
With live-tracking, instant uploads, social network sharing and live weather updates the new Edge 510 has taken the bike computer to a new level of sophistication by creating a communications platform. "You can be live uploading your data and it can be followed by friends on their Smartphones which, if you are doing a race, is pretty darn cool", says Squire. He adds, "This has great uses for friends, family, coaches and more".
The original Edge 500 lacked the barometric altimeter for accurate on board altitude, which is a further advantage the new Garmin 510 has. "I have little doubt that this will be the best selling bike computer for 2013 because the level of upgrades certainly surpassed my expectations significantly", says Squire.
The Rockford bike team has already tested the new Garmin Edge out front bike mount and in a matter of weeks they'll be adding the new Garmin Edge 510 to it. "This should make the ultimate training system", says Squire. He adds, "I was in the sport long before bike computers were ever invented so I've got a pretty long-term perspective on this deal".