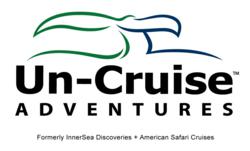 "We've experienced phenomenal growth and success over the last four years," said Dan Blanchard, principal and CEO.
Seattle, WA (PRWEB) January 08, 2013
Marking another milestone in its 16 year evolution, adventure cruise line InnerSea Discoveries/American Safari Cruises has officially changed its name to Un-Cruise Adventures. The line operates seven boats carrying 22-88 guests in Alaska, Hawaii, Mexico's Sea of Cortés, Columbia and Snake Rivers and Coastal Washington and British Columbia.
"We've experienced phenomenal growth and success over the last four years," said Dan Blanchard, principal and CEO. "What began as yacht cruising under the American Safari Cruises name has now expanded to include more styles of Un-Cruise Adventures, and this name change reflects that growth."
The company has three expedition vessels—60-guest Wilderness Adventurer, 76-guest Wilderness Discoverer and 76-guest Wilderness Explorer—offering Active Adventures for those desiring more outdoor explorations at a lower price point. Three yachts offer Luxury Adventures—22-guest Safari Quest, 36-guest Safari Explorer and 86-guest Safari Endeavour—an inclusive, upscale experience along with adventure activities. The 88-guest Safari Legacy, a replica Victorian steamer, debuts in August 2013 and will offer inclusive Heritage Adventures focusing on Living History aboard and ashore through presentations and tours. Charter Adventures are also offered on all boats.
"Un-Cruise Adventures reflects the distinct nature of our small group travel by boat," said Tim Jacox, executive vice president of sales and marketing. "Luxury of Experience really speaks to what Un-Cruise Adventures is all about. With a cap of 88 guests, we are able to experience more of the destinations through a wide range of activities – kayaking, paddle boarding, snorkeling and hiking under our Luxury and Active Adventures or reenacting history with Heritage Adventures."
New in 2013
In 2013, the 88-guest Safari Legacy begins operating in Alaska and then sails on the Columbia and Snake Rivers in fall and spring. It debuts Heritage Adventures—a new style of Un-Cruise Adventure with a focus on Living History aboard and ashore. In November 2013, the Wilderness Explorer will begin sailing Active Adventures in the Hawaiian Islands between Oahu and Hawaii, the Big Island. And three Alaska Unleashed departures are scheduled for the Wilderness Adventurer in Alaska for adventurers desiring an amped up week of high adventure.
Moving forward, all company materials will change to reflect the new name of Un-Cruise Adventures. The company's website URL will change to un-cruise.com.
To book an Un-Cruise Adventure or to request additional information, contact your travel agent or the company directly at 888-862-8881 or email sales(at)un-cruise(dot)com.
-un-cruise.com-
Editor's note: Visit the Media Gallery for press materials and photos. More photos and the new Un-Cruise Adventures logo are available through Sarah Scoltock at sarahs(at)un-cruise(dot)com.
About Un-Cruise Adventures |formerly InnerSea Discoveries + American Safari Cruises
Un-Cruise Adventures' fleet of seven boats carries 22-88 guests on Active, Luxury and Heritage Adventures. What began in 1997 as yacht cruising in Alaska, pioneered by American Safari Cruises, has since expanded into Mexico's Sea of Cortés, Columbia & Snake Rivers, Hawaiian Islands, and Coastal Washington & British Columbia with hands-on small boat explorations. Un-Cruise Adventures, under the parent company of InnerSea Discoveries, is a member of Trusted Adventures, dedicated to the highest standards of small-group travel and to giving back to the places visited. Connect with Un-Cruise Adventures on Facebook and Twitter.