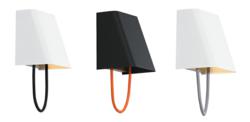 Sacramento, CA (PRWEB) January 08, 2013
Lumens.com has introduced the new Pull Wall Sconce by Tech Lighting, a nod to mid-century modern design with 21st century technology. This new product comes from one of the industry's leaders in modern, innovating decorative lighting and is available exclusively at Lumens.com.
The Pull Wall Sconce is the latest contemporary lighting introduction from Tech Lighting, with a design that pays tribute to the simplicity of a mid-century modern aesthetic while utilizing 21st-century technology with LED lamping. The name "Pull" references the fixtures main features, a fabric-covered cord that provides a unique contrast of color and serves as the main functional element of the sconce. A simple tug switches the lamp on or off.
The clean lines of the Pull Wall Sconce comes from a seamless metal shade, available in either Black or White rubberized paint, paired with a Black, Gray or Orange cord. The sconce is available in a Small and Large size. The Pull Wall Sconce's dimmable LED lamping inside is rated to last an average of 25,000 hours.
This latest introduction from Tech Lighting fits right in with a trend seen among modern lighting manufacturers: the colored cord. While many light fixtures minimize, disguise or aim to hide the cord, designers are embracing this necessary element and working it into the piece itself. Other lighting manufacturers like LBL Lighting, Pablo Designs, Sweden's NUD and more have created fixtures that embrace the cord and use it for visual impact.
Tech Lighting has built a reputation in the lighting industry for timeless design, precision engineering and trust. The company is recognized as the industry leader in low-voltage lighting systems and its expansive collection of premium light fixtures, all of which are available at Lumens.com.
Lumens.com is the first to offer the Pull Wall Sconce by Tech Lighting. In addition to this new and exclusive item from Tech, Lumens.com also offers:
-Low-price guarantee
-Expert service via our customer service center
-Easy, no-hassle returns
-Volume order discounts
-More than 300 manufacturers, from contemporary lighting to transitional fixtures and modern furnishings, gifts and home accessories.
For additional information on these products or Lumens.com, contact Marketing Director Carrie King or visit lumens.com.
About Lumens Light + Living:
Lumens Light + Living is dedicated to offering the very best of design-oriented contemporary lighting, fans and home accessories, from the most contemporary international designs to modern interpretations of classic design. Visit us on Facebook and Twitter.
Contact:
Carrie King, Director of Marketing
Lumens Light + Living
916-444-5885
http://www.lumens.com
# # #