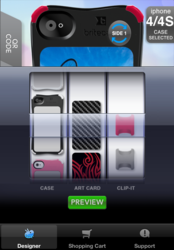 "It's the first iOS App that lets consumers customize their iPhone as often as they like," says Bill Hinz, co-founder of BriteCase.
Las Vegas, Nevada (PRWEB) January 08, 2013
Consumer Electronics Show, Las Vegas, NV.
Mobile device protector BriteCase™ has reinvented protective cases for the iPhone 4/4S and iPhone 5 devices in a dramatic new way – providing superior protection, lightweight design, and breakthrough customization in a single product.
BriteCase has developed a revolutionary app (BriteCase, free on iTunes) to enable consumers to seamlessly create, preview, and purchase BriteCase products anytime, anywhere.
BriteCase creation starts with selection of a highly durable polycarbonate frame – designed to be the first on the market with Impact Deflection Technology (IDT) (patent pending) which causes energy to be released through the case on impact, rather than being absorbed into the phone causing damage.
Next, consumers select BriteCard inserts for the back of the case, offering unlimited opportunities to personalize a phone. BriteCards can be customized using any photo from an iPhone library or by taking a new photo. Users can also select innovative designs from the BriteCase store. Then consumers select high-protection corner Clip-ItsTM to complement their unique design.
The app's intuitive design and the advanced selector wheel feature make it simple for anyone to design, preview, and order new BriteCase components within seconds.
The permutations of the BriteCase app are endless. Consumers can change the frame, the BriteCard, or the Clip-ItsTM anytime. They can snap a picture, open the app, size it, and order new BriteCards directly from their iPhone.
"It's the first app that lets consumers customize their iPhone as often as they like," says Bill Hinz, co-founder of BriteCase. "Our application is different from any other iPhone case app – a user can now quickly turn their photos into BriteCards, and order new cases and corner Clip-ItsTM – right from their phone. They can customize their case over and over again, with minimal expense. We anticipate BriteCase rapidly becoming the dominant case customization app for iPhone 4/4S and iPhone 5."
App Features:

Seamlessly select, view, and order BriteCase components with the tap of a finger;
Snap a new picture or use an existing photo to create a customized back;
Two-sided BriteCards provide double the opportunity for customization;
Select innovative designs and coordinating frames and Clip-ItsTM from the BriteCase store;
Upload a photo using the QR code reader; and
Integrate a QR code on a BriteCard for business purposes or advertising.
BriteCase, an innovator in superior mobile device protection has developed a simple, yet powerful and creative application to help consumers customize their iPhone 4/4S and 5 series phones while also providing paramount phone protection. BriteCase is pleased to introduce their exciting BriteCase App and their product line at this year's Consumer Electronics Show in Las Vegas. See the app in action and preview their exciting line of mobile protection cases by going to LVH iLounge Booth 59001.
Visit http://www.britecase.com for more information about the application and the mobile protection product line.
Now available on the Apple iTunes Store for Free.
BriteCase® name, design and related marks are trademarks of BriteCase, LLC, © 2012. All rights reserved. iPad, iPhone, iPod touch and iTunes are trademarks of Apple, Inc.
###