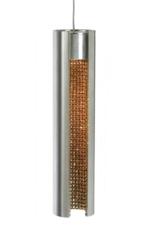 According to Director of Product Design Dennis Beard, "LBL Lighting continues to deliver a fresh, vibrant take on contemporary design, inspired by a wide array of influences, such as fashion, art, architecture, nature, jewelry and more."
Chicago, IL (PRWEB) January 08, 2013
LBL Lighting, known for delivering design‐infused, glamorous lighting with an innovative twist, will introduce 40 new decorative luminaires at the January Dallas International Lighting Market. This January's trade show runs January 17-21, 2013, at the Dallas Market Center, 2100 North Stemmons Freeway; LBL's showroom is #3925-TM.
According to Director of Product Design Dennis Beard, "LBL continues to deliver a fresh, vibrant take on contemporary design, inspired by a wide array of influences, such as fashion, art, architecture, nature, jewelry and more. Our new-for-2013 products reinforce the brand's growing breadth in several categories —particularly with this year's notable expansion of our outdoor options."
Bling Will Be Even Bigger in 2013
According to Beard, "The bling factor will be even more popular in 2013. Crystals, rhinestones, metallics and similar sparkling materials we've recently seen in runway fashion trims and decorative home accessories should make their way into decorative lighting. I'm incorporating gold and rose gold into several LBL pieces. I've always loved those finishes in jewelry, and I think they add an incredible warm elegance to lighting. With consumer confidence at its highest in three years, many people want to celebrate and feel joyful in their space."
The new LBL Dolly low-voltage pendant is a beautiful and sleek, slotted metal cylinder with a Satin Nickel finish which reveals an inner layer of brilliant Amber rhinestones. Dolly's also available with Gold or Clear crystals with the Satin Nickel cylinder or a Rubberized Black cylinder with Black crystals. Dimensions are 10.6" tall and 3.3" in diameter, and this fixture includes one, 6-watt, 3000K LED module and 6' of field-cuttable cable.
The Scarlett suspension is a theatrical, linear metal frame filled with dazzling plated metal facets. It includes 12' of field-cuttable aircraft cable and two, 9.5 watt, 3000K LED strips. The facet colors are available in Rose Gold, Gold and Chrome, and finish choices are Gunmetal or White. Dimensions are 46.4" long and 4.8" high.
As the LBL Lighting Mademoiselle low-voltage pendants made a splash in 2012, the company will unveil two new-for-2013 companion pieces with its new Mademoiselle suspension and Mademoiselle wall. Inspired by the flow and luxury of a formal gown, the suspension fixture features nine meters of draped Swarovski™ Element Crystals over a linear aluminum body that houses the slim LED light source. Perfect for a dramatic, yet romantic décor, a choice of Clear or Golden Shadow crystals (shown) are artfully set throughout a web of sterling silver chain with a Rhodium finish to maintain its original shine. The Mademoiselle suspension is 50" long and 13.75" tall with the crystals; the Mademoiselle wall, also LED, is 5.8" wide, 12.5" tall and 2.75" deep with the crystals and is ADA compliant.
Cage Shapes
Beard said that rigid cage shapes will continue to be popular. This new LBL Someday Grande line-voltage pendant balances that rigidity with the softness of its inspiration—a tailor's dress form—and it has a modern twist with a hand-blown conical, white glass shade. Someday Grande's dimensions are 27.6" high and 9.7´in diameter (at its widest point), and it's available in incandescent or compact fluorescent lamping. This new line also has a Someday medium-sized line-voltage pendant at 17.8" high and 7.6" in diameter (also available in incandescent or compact fluorescent lamping) plus a Mini Someday low-voltage pendant which is 8.6" high and 4" in diameter with a choice of LED or incandescent lamping. All are available in either a Satin Nickel or Black finish (as shown here).
Avant Garde in the Home.
The Lola fixture is another example of LBL's forward-thinking design that captures what's trending in the home. Inspired by mid-century French perfume bottles, this avant-garde bath bar would add whimsy to a luxurious bathroom or a glamorous dressing closet. The metal base featuring five bottle-shaped, opal glass shades—each topped with a decorative crystal detail of its own—rests on a frosted glass shelf. Lola's dimensions are 24" long, 8.9" tall and 4" deep, and it includes five, 40-watt halogen lamps. ADA compliant.
LBL Continues to Expand Its Outdoor Category
This contemporary LBL Fugue 18 outdoor fixture is one of many additions to LBL's outdoor category for 2013. Fugue 18's metal grid is inspired by structural awnings seen at large building entries. It includes one, 10-watt, 3000K LED module (120v or 277v). Its dimensions are 17.3" high and 6.5" wide, and it's also available in the Fugue 15 that is 14.4" high and 6.5" long. Both come in a Bronze or Silver finish.
The Moi 18 outdoor fixture by LBL has a metal frame with clear or colored transparent glass rods stacked in a channel. Integrating lamping in its design, the LED at the top of the fixture shines downward across the rods, creating the look of shimmering water. Moi 18 is 17.3" high, 6.5" wide and 3.9" deep. Its smaller counterpart, Moi 11, is 11.4" high, 6.5" wide and 3.9" deep. Available in either a Silver of Bronze finish. Includes one, 10-watt, 3000K LED module (120v or 277v). ADA compliant.
LBL Lighting's Unique Ona Wall Canopy
LBL Lighting's Ona wall canopy is one of the most versatile lighting fixtures on the market. Far from the traditional sconce, Ona is uniquely designed to easily transform more than 100 of LBL's fusion jack low-voltage pendants into distinctive, customized wall sconces. Simply mount the base (in which there is a low-voltage transformer) to an electrical box on the wall, cut the pendant cable to the desired length and then run the cable through Ona's arm to hang the pendant out and downward. Each Ona comes with both a long rod that accommodates pendants up to 9" in diameter plus a short rod which accommodates pendants up to 6" in diameter. It's available in either a Bronze or Satin Nickel finish.
About LBL Lighting:
Headquartered just outside of Chicago in Skokie, Ill., LBL Lighting has been designing and manufacturing some of the most beautiful and creative lighting in the industry for more than 40 years. The company's diverse portfolio of high design-infused lighting products includes a wide range of chandeliers, suspension pieces, flush mounts, wall sconces, decorative glass pendants, architectural heads and outdoor wall fixtures. LBL Lighting's products can be found in lighting retailers and through sales representatives across North America. To view products, visit http://www.lbllighting.com.
About Generation Brands:
As parent company to LBL, Generation Brands is one of America's leading companies serving the lighting, electrical wholesale, home improvement, home décor, and building industries. The company has an outstanding portfolio of fashionable and functional lighting fixtures, ceiling fans, and decorative products that provide value and growth to customers and end‐users. The company's success is derived from its ability to serve its customers and end‐users with superior service, leading edge design, and outstanding quality.
# # #