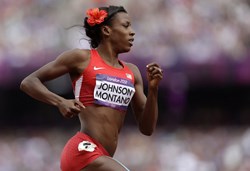 Alysia dominated the 2012 U.S. Olympic Trials, blowing away the field, and went into the London Olympics with the goal of becoming Olympic Champion.
Glendora, CA (PRWEB) January 08, 2013
The two-time NCAA Indoor and Outdoor Champion and four-time USA Outdoor Champion is known for her middle distance domination and is referred to as the "800m Specialist," as it's the hardest distance to dominate. "The 800 meters is considered to be the 'longest sprint': to succeed you have to find the perfect balance of both anaerobic and aerobic fitness," says Alysia. "In competition, the race is long enough that pace is important, but short enough that there's no time for fear. So you just have to be fearless."
Alysia dominated the 2012 U.S. Olympic Trials, blowing away the field, and went into the London Olympics with the goal of becoming Olympic Champion. While coming up just short of a medal, Alysia's fast pace and "leader of the pack" running style let the world know she is a forced to be reckoned with for years to come. Look for her to make a splash this summer at the 2013 World Outdoor Championships in Moscow, Russia and at the 2016 Summer Olympic Games in Rio de Janeiro.
"I am more than thrilled to feel the comfort and security with this decision I have made to partner with The Factory Agency, I know only good things will come from this partnership and I really do believe in The Factory Agency," said Alysia when asked about her partnership with TFA. "I am confident that my goals on the track will be met, but with the enlisted help of Jeremy Snyder and his team, I am more than confident that my goals will be met off the track as well."
"We are extremely excited for Alysia to join the TFA family and we are looking forward to fostering new corporate relationships as an International brand ambassador through endorsements and speaking engagements both on and off the track. With her dominance on the track over the past couple of years, Alysia has quickly become one of the top female distance runners in the world," says Managing Partner Jeremy Snyder. "TFA will work to market Alysia through endorsements, speaking engagements and personal appearances."
About Alysia Montano
Known for the flower she tucks in her hair at every race, Alysia is a popular competitor in the world of Track and Field, holding the title as the fastest woman in the 800 meters in 2010. A Southern California native, Alysia found her love of the track as a young girl while watching her cousins compete. She excelled in Track & Field and quickly found her niche in middle distance running. While attending the University of California Berkley, Alysia won two NCAA indoor and Outdoor titles and honed her skills to dominate on the world state. Alysia currently resides in Santa Clarita with her husband, Louis Montaño. For more information visit http://www.alysiamontano.com/.
About The Factory Agency
The Factory Agency is a specialized sports and entertainment agency helping their clients develop a holistic brand that connects each phase of their lives to paint a cohesive, lasting image. By focusing on the five pillars of brand development – professional career, philanthropy, business interaction, resources/infrastructure, and public exposure – and tying each component together to reinforce an overarching message, TFA shapes clients' desired brand image and develops a plan to monetize the opportunities through the vast network of corporate, media, and personal relationships. Services and capabilities include: Talent Representation, Contract Negotiation, Marketing, Licensing & Endorsements, Speaking Engagements & Appearances, Event Production & Management, Philanthropic Consulting & Support, Media Production & Development, Corporate Consulting, Sponsorship Sales, and Hospitality & Concierge Services. For more information visit http://www.factory-agency.com.