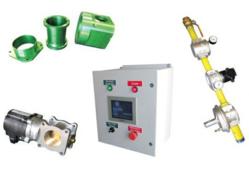 Houston, Texas (PRWEB) January 08, 2013
One Stop Green now carries the OptiBlend alternative fuel retrofit system for diesel generator sets. The OptiBlend alternative fuel retrofit system allows diesel generator sets to run off less expensive natural gas or other alternative fuels.
The OptiBlend displaces diesel with natural gas or other alternative fuels, without modifications to the internal components or the stock fuel management system. The OptiBlend dramatically lowers operational costs, increases back up runtime capacity, and reduces NOx, CO2, and PM emissions. When required, the system allows the engine to run on 100% diesel.
The OptiBlend system requires no internal engine modifications or OEM control system modifications to operate with a diesel generator set and maintains OEM power output. It uses a dynamic gas control system which optimizes displacement at multiple load points. This provides maximum operational savings compared with the original diesel generator set.
One Stop Green, LLC facilitates environmentally friendly improvements to residential and commercial properties through distribution of green, energy efficient products and services. Their goal is to provide practical, long-term, and economical solutions for existing and non-existing facilities while remaining dedicated to the principles of sustainability. One Stop Green's mission is to help consumers take control of their energy options so they can reduce their carbon footprint and do their part for the environment, while protecting themselves against rising energy costs and taking advantage of valuable Federal tax credits and deductions.
Contact:
Nathan Kaufman
http://www.OneStopGreen.com
P: 877.449.9110|O: 713.541.2739|C: 210.846.5900
###