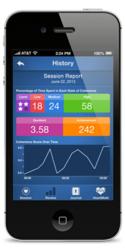 "Stress is at unprecedented levels for so many people. There's never been a more appropriate time to offer a proven effective training technology like our Inner Balance app."
Las Vegas, NV (PRWEB) January 08, 2013
HeartMath® (http://www.heartmath.com), widely recognized for its science-based solutions for stress and performance, in addition to its award-winning emWave® technology, is announcing the release of its new digital health app, Inner Balance(TM) at CES 2013. Bringing many of the popular emWave features to iOS devices, Inner Balance is the only app and sensor available that offers both real-time monitoring and training to manage stress and rebalance the mind and emotions whenever you need it. HeartMath will debut the new Inner Balance App and HeartMath Sensor for iOS in the LVCC South Hall 2 at booth #26235.
Over two decades of HeartMath research sets the foundation for this truly unique and effective approach to replacing old frazzled stress responses with a new level of personal balance and a deeper sense of ease and flow in the face of challenges. Real-time feedback, guided techniques and journaling within the app provide proven strategies to change the stress response.
The app is powered by, and works exclusively with the HeartMath Sensor for iOS, which costs $99.00. To start the heart journey plug in the small iOS module to the user's device and clip the sensor end to the earlobe to get an instant heart rhythm reading.
Inner Balance asks the user to select how they are feeling in the present moment. To assist the user to calm the mind and shift focus to the heart, the app provides unique breathing pacers.
As the Inner Balance session runs, the next step redirects the user to focus on a positive emotion that can replace the less desirable emotion. The app provides the user with a highly specialized technique to do this.
"People are happiest when they live more from their core heart values, such as appreciation, love, care and compassion. Yet often it is stress that disconnects us from our authentic-self and these values," said President and CEO of HeartMath, Dr. Deborah Rozman.
"Inner Balance is designed to provide practical tools and real-time feedback to guide people back to their authentic nature and help them listen to their inner intuitive signals. The app will help users regain inner balance in the midst of all the busyness, and we knew a fast-paced show like CES was the perfect platform to show users and attendees its value," added Rozman.
Much like having a personal trainer on hand, real-time feedback helps the user to know when they have successfully shifted the heart rhythms and the emotions. Inner Balance provides:

a highly specialized technique to shift out of stress and into a more desirable emotional state
goals to follow to help reach new levels of inner balance
history of all sessions and progress tracked over time
a journal to track feelings or experiences that may have contributed to different session outcomes
Inner Balance provides user friendly graphics that display the user's heart rhythm coherence level – also called HRV coherence. Inner Balance guides users to shift their heart rhythms to the "heart coherence" state. Coherence is directly associated with improved health, cognitive functioning - and a deeper sense of inner balance and happiness.
While there are many heart rate apps available, Inner Balance is monitoring heart rate variability (HRV) - a measurement of beat-to-beat changes that occur within heart rhythms and a sophisticated and highly sensitive observation of emotional fluctuations.
Additional features include three options for the breathing pacers. Two consist of beautiful graphics with gentle animations to help pace the breath, or users can also create a custom pacer using My InspirationTM - a feature that is also in the emWave2® and emWave® Desktop products.
"We're excited about the potential of the Inner Balance app, said Catherine Calarco, Chief Marketing Officer and Senior Vice President for HeartMath. "We believe this will be a valuable addition to the mobile health marketplace. Consumers now have access to an advanced HRV coherence training technology for reducing emotion-based stress. Having this available for iOS devices means expanded convenience for our customers and greater access for the more than 15,000 health professionals that love and use our emWave technology with their patients."
For those who want to delve even deeper, the app offers unique "quantified-self" features, including advance screens and charts that provide a more detailed view of the changing heart rhythms and amount of time in "the coherence zone."
The debut of the Inner Balance app comes on the heels of another new app release from AOL's Huffington Post called GPS for the Soul. HeartMath's proprietary technology is at the heart of GPS for the Soul, which was developed in partnership with HeartMath and bLife.
"Stress is at unprecedented levels for so many people", added Rozman. "Technology itself can be stressful and overwhelming. Our technologies are designed to help people destress -- and return to balance at any time. The Inner Balance trainer advances our mission to help people understand and connect with their heart to sustain personal balance. There's never been a more appropriate time to offer a personal training technology like our Inner Balance app."
The Inner Balance App and HeartMath Senor for iOS will be available to consumers February 1, 2013 and showcased for the first time at CES in the LVCC South Hall 2 at the HeartMath booth #26235. To view the Inner Balance app on-line press kit send an email to: gboehmer(at)heartmath(dot)com
Join us:

CES Digital Health Summit, Jan 10th at 9am – Catherine Calarco, CMO of HeartMath, panelist Rise of the Quantified Self: Addiction or Just Healthy?
Meet Arianna Huffington at the HeartMath booth Tues., Jan. 8, 11:00 am-11:45 am
See Inner Balance at the Wall of Apps - North Hall, Las Vegas Convention Center
###
About HeartMath: The Company (http://www.heartmath.com) provides unique services, products and technologies to improve well-being and reduce emotional stress. HeartMath studies have demonstrated a critical link between emotions, heart function and cognitive performance and have been published in numerous peer-reviewed journals such as American Journal of Cardiology and Stress Medicine. Their award-winning emWave technology has won numerous awards including the Last Gadget Standing People's Choice Award at CES.
Inner BalanceTM and emWave® are trademarks of Quantum Intech. HeartMath® is a trademark of the Institute of HeartMath. iPhone®, iPod® and iPad®are trademarks of Apple Inc., registered in the U.S. and other countries. Other trademarks mentioned in this press release may be held by their respective owners.