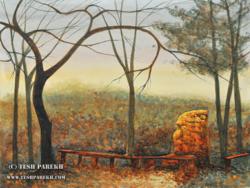 Wake Forest, NC (PRWEB) January 08, 2013
Art After Hours is back for 2013. Experience the Local Art Walk in the Historic Downtown District of Wake Forest, NC. Each second Friday this small town block comes alive with artists, music and delicious food. This Friday January the 11th , be sure to stop in and visit The Gallery inside The Cotton Company on South White Street. Local artist Tesh Parekh will be displaying a beautiful collection of watercolor and oil paintings.
Tesh Parekh specializes in watercolor and oils. He loves to paint Plein Air, LIVE during special events or in his studio. Born in India, his practice of painting came at an early age. Tesh loves to paint a variety of subjects using techniques that allow him to convey the message. Subjects will include landscapes, plein air paintings (including Wake Forest scenes), cityscapes (including scenes of Mumbai), portraits and variety of other subjects.
The Cotton Company is a Boutique Marketplace in the heart of Wake Forest's Historic Downtown District. For the Art After Hours celebration we host an artist reception, from 5:30-9pm, inside The Gallery. Enjoy refreshments and a wine tasting while meeting our Featured Artist for January Tesh Parekh and other local artists. The Cotton Company is home to a variety of local artists including painters, potters, photographers, even wood and glass masters. Enjoy shopping again.