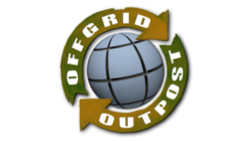 Corpus Chrisi, Texas, US (PRWEB) January 21, 2013
Offgrid Outpost, an online retailer of storable foods, survival tools and supplies, water filtration and storage systems, and solar panels, announces that it has transitioned its storable foods product line to only foods that contain no genetically modified organisms (commonly referred to as non GMO). Via its partnership with Legacy Premium Food Storage, Offgrid Outpost features only non-GMO storable foods, while still offering a 25-year shelf life and a wide variety of meal types.
Consumers are becoming increasingly concerned about the health effects of GMO foods, as GMO crops, such as 80% of soybean and 90% of corn grown in the United States, are sprayed heavily with pesticides and herbicides. In addition to exposure of GMO crops to many toxins, independent research has shown that GMOs have decreased fertility, increased birth defects, and even caused tumors in lab animals.
Legacy Premium, manufacturer of great tasting storable foods, introduced its non-GMO storable foods product line on the heels of Hurricane Sandy, which showed the nation how vulnerable citizens are when they are not prepared for potential disasters. Dylan Hunt, founder and CEO of Offgrid Outpost, states, "The storm was a huge wake-up call for people who never thought hunger could happen to them. And if Sandy has taught us anything, its that everyone should maintain an emergency supply of food, as a civic responsibility."
Hunt adds, "Non-GMO foods have quickly become one of our most popular items. Our customers are keen individuals, aware that they cannot rely solely on our food supply systems during emergencies, and also alert to the potential risks of consuming GMO foods."
Legacy Premium non-GMO storable foods can be purchased via the Offgrid Outpost online storefront at http://www.offgridoutpost.com.
For more information please contact:
Offgrid Outpost
Dylan Hunt - CEO
T: +1 512 539 0329
online(at)offgridoutpost(dot)com
About Offgrid Outpost
Demand for storable foods and survival gear is rising swiftly as consumers become weary of issues such as rising food prices, increasing oil costs, and pollution of our water supply. Additionally, consumers are concerned about their reliance on the food delivery system, which is not prepared to address power outages and extreme weather conditions cause by natural disasters such as Hurricane Sandy. Offgrid Outpost offers a solution to address these concerns by offering quality and nutritional storable foods, survival tools and supplies, water filtration and storage systems, solar panels, and more. To find out more, contact Offgrid Outpost: online(at)offgridoutpost(dot)com; ; T: +1 512 539 0329; http://www.offgridoutpost.com