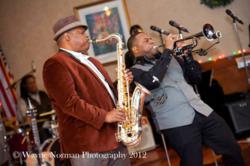 Resaxation certainly will take the edge off anyone's stressful day
Detroit, MI (PRWEB) January 14, 2013
The New Year is a time for new beginnings, and Smooth AC / Smooth Jazz Saxophonist Deon Yates takes center stage to bring the latest radio single from his critically acclaimed debut international release "Spotlight," entitled "Resaxation" featuring chart topping Soul Jazz Trumpeter Lin Rountree. According to Ronald Jackson of TheSmoothJazzRide.com, "Rountree's sedating trumpet and the delicious melody and rhythm of "Resaxation" certainly will take the edge off anyone's stressful day.
Scott O'Brien of SmoothJazz.com says, "Spotlight delivers big-time on talent and performance and Deon's playing sparkles like a new diamond on ten compelling songs. He brings in guests Nick Colionne, Maysa, and fellow Detroiter Lin Rountree to complement his own impressive jazz chops on a well-rounded selection of mostly original tracks that range from soothing and romantic to lively and exhilarating. When listening to Colionne's work on the energetic single, "Use to Be," Maysa's alluring vocals on "Look How Far We've Come," and Rountree's delicious trumpet work on the new single "Resaxation," it is easy to hear why Emmy-nominated Yates is fast becoming one of the most sought-after emerging talents in jazz today, both as a performer and a composer/producer. As for building a personal jazz library, SPOTLIGHT will definitely brighten it up.
With endorsements from industry leading manufacturers Sax Dakota, Applied Microphone Technologies and Theo Wanne Mouthpieces, Yates is making his mark in the world of Smooth Jazz. Yates is thankful for his endorsement and he says, the companies that he endorses in turn endorse him by believing enough in his talent to allow him to represent their products.
"He would like to be a star but only because it will give volume to his voice," said Yates when asked about his goals. Appearing in the November 2012 issue of Jazz Times magazine Yates showed that he supports and cares for his community by using his music as a means to support domestic violence awareness and donating a portion of the proceeds from his new album to charity.
On Thursday, February 14, 2013 Yates will be hosting "Valentine's with R n R," starring trumpeter Rick Braun and Saxophonist Richard Elliot at 8 p.m., at The Scottish Rite Cathedral inside the Masonic Temple in Detroit, MI. Tickets are on sale now at the Masonic Temple box office, all Ticketmaster outlets. For more information on the concert or Deon Yates please visit deonyates.com.
With the release of his new hit project featuring Jazz Guitarist Nick Colionne, Vocalist Maysa and Soul Trumpeter Lin Rountree, Saxophonist Deon Yates is fast becoming one of the most sought after emerging talents in jazz. Deon has been recognized as an affluent instrumentalist and performer by some of the top music manufacturers in the country with endorsements from industry leaders Sax Dakota U.S.A., Theo Wanne (Mouthpieces) and AMT Microphones Deon has proven himself to be a world class artist. For booking, interviews and other appearances contact Marissa Caliguire at FCP Media 248-497-1800.
###