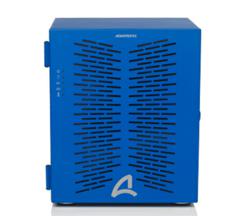 The Cirrus™ 1200 sets a new benchmark in enterprise-grade server computing at competitive price points perfect for a wide range of environments including home, SOHO, and small business all while being exceptionally user-friendly and accessible
Las Vegas, Nevada (PRWEB) January 08, 2013
Advatronix® Systems, a Las Vegas based leader in innovative server solutions, officially released the launch of its new Cirrus™ 1200 server. It features a unique hybrid design, which keeps the size of the server compact while delivering exceptional performance, power efficiency, and reliability. The Cirrus™ 1200 is whisper quiet and requires no special cooling or air conditioning. It is also the only server on the market today to feature a permanent, high precision, synthetic mesh filter to prevent dust from entering the server and maintain clean operation at all times.
With plenty of processing power, vast amounts of ECC memory and a rock solid storage subsystem, the Cirrus™ 1200 can handle anything you throw at it. What's more, it exclusively uses enterprise grade hardware and is validated for 24x7 operation. Built on the latest Intel® Xeon® E3v2 platform, the Cirrus™ 1200 can accommodate up to 12 SAS/SATA hot-swappable mechanical/solid state hard drives and comes preloaded with your choice of Windows® Server Operating System. Dedicated hardware RAID and advanced security features, such as AES-NI, and the provision to use a TPM chip come standard with the Cirrus® 1200.
The Cirrus™ 1200 sets a new benchmark in enterprise-grade server computing at competitive price points perfect for a wide range of environments including home, SOHO, and small business all while being exceptionally user-friendly and accessible, with minimum IT knowledge required to operate and maintain compared to old-fashioned servers.
The Cirrus™ 1200 is an ideal opportunity for advanced users and companies with limited IT resources seeking to expand productivity and meet the demands of today's digital world. For organizations with existing server and network infrastructure, the Cirrus™ 1200 integrates seamlessly into existing networks to help bolster efficiency and collaboration. The Cirrus™ 1200 server is available directly through Advatronix® Systems at http://www.advatronix.com/store/servers/.
Advatronix® Systems proudly designs & assembles its servers in the United States of America. Advatronix® news, additional product information, product images, and updates are available at http://www.advatronix.com.
Some statements in this press release regarding the impact, benefits, performance, and availability of the Cirrus™ 1200 are subject to risks and uncertainties that could cause results different than stated or expected. This press release is not a guarantee of future performance and Advatronix Systems hereby disclaims any and all obligations to update this press release to reflect future events and/or circumstances statements.
©2013 Advatronix® Systems. All Rights Reserved.